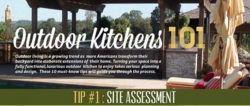 Kalamazoo, MI (PRWEB) June 18, 2013
Kalamazoo Gourmet has recently published an infographic that offers practical advice on how to set up a fully operational outdoor kitchen. This informational piece is intended to highlight safety and design concerns for the hobbyist cook to take into consideration when they begin constructing a cooking space for family meals and entertaining guests.
Many cooks enjoy the relaxation of preparing a meal while surrounded by the beauty of nature. Although many outdoor kitchens focus on the grill, installing the best outdoor grills isn't the most critical part of the design process. The Outdoor Kitchens 101 tutorial is aimed at helping gourmands develop a safe and efficient outdoor kitchen that allows for food preparation and entertainment without running back into the house.
"Our infographic is intended to give a brief overview of everything the home chef might need to know about developing and using outdoor kitchens," stated a Kalamazoo Gourmet representative. "These nine tips are critical in ensuring the optimal outdoor kitchen and grilling experiences."
The new infographic details all aspects of the outdoor kitchen experience, from the placement of a stainless steel outdoor American grill to the safe set-up of an outdoor refrigerator. The infographic also details vent hood installation for outdoor grills to prevent smoke from damaging equipment and bothering guests. Additional details include lighting considerations for the outdoor kitchen space.
About Kalamazoo Gourmet:
Kalamazoo Outdoor Gourmet is an industry leader in the design and implementation of outdoor kitchen design. The company works directly with hundreds of homeowners each year, helping them to design the perfect outdoor kitchen for use during the warmer months of the year. For more information on developing or maximizing your outdoor kitchen, visit them on the web at http://www.kalamazoogourmet.com/.