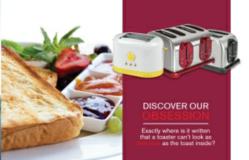 …even during the holiday season your company has proven to provide great customer satisfaction, which makes me want to buy your products. Happy New Year!
Los Angeles, CA (PRWEB) December 20, 2012
European-based company Kalorik, specializing in finely engineered home and kitchen appliances, launches online sweepstakes with Sweepstakes Ninja. Consumers have the chance to win a contact grill from Kalorik, through the online sweepstakes with Sweepstakes Ninja.
Established in Belgium, in 1930, Kalorik has become synonymous with finely engineered, unique products. Kalorik was one of Europe's first manufacturers of small electric appliances, initially launching one of the very first electric toasters. This well recognized achievement helped Kalorik establish offices in the U.K., Germany and Switzerland, and then North America, and become a household name synonymous with quality.
Sweepstakes Ninja gives people the chance to learn about unique companies such as Kalorik, while at the same time giving them the chance to win prizes. People may enter the sweepstakes through the sweepstakes draws (http://www.sweepstakesninja.com/sweepstakesdraw/draw/home-and-kitchen-electric-appliances/). They are daily entry draws, that not only give people chances at winning amazing prizes, but also introduces unique companies to them. Through the sweepstakes draws, contestants have a chance of winning a unique and memorable gift from Kalorik.
The sweepstakes may be entered through the Sweepstakes Ninja website. To increase their chances of winning, entrants may share sweepstakes links with friends, family, and through social media. This is a win-win situation for both Kalorik and the entrant. Entrants increase their chances of winning award winning products, and more people learn their line of home and kitchen electrical appliances.
About SweepstakesNinja.com
SweepstakesNinja.com designs fun and interactive sweepstakes. The company matches consumers with companies, in a fun and interactive manner. Entrants have the chance of winning amazing prizes, and have fun participating in the sweepstakes. Companies benefit from exposure to their brands, word of mouth advertising, customer loyalty, and long term increases in profit. For more details, visit http://www.sweepstakesninja.com/