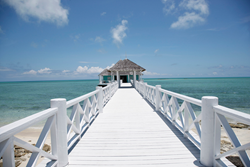 "My parents, Brian and Jennifer Hew, created Kamalame Cay in 1996 to share our West Indies heritage and island lifestyle with friends, family and guests. To receive this award on the eve of our 20th anniversary season is truly special." David Hew
Kamalame Cay, Bahamas (PRWEB) October 19, 2016
Condé Nast Traveler today announced the results of its 29th annual Readers' Choice Awards with Kamalame Cay, a private island in the Andros archipelago, recognized as the #1 Resort in the Atlantic and Caribbean Islands with a score of 98.3, a score that also distinguishes the Kamalame Cay as the 28th best resort in the world.
"We are honoured to have been chosen by the readers of Condé Nast Traveler for this distinction," said Director David Hew. "My parents, Brian and Jennifer Hew, created Kamalame Cay in 1996 to share our West Indies heritage and island lifestyle with friends, family and guests. To receive this award on the eve of our 20th anniversary season is truly special."
Over 300,000 dedicated readers – nearly twice as many as last year -- cast votes for 7,394 hotels, 606 cities, 500 cruise ships, and 236 islands, in an average survey time of 8.4 minutes. The result? The 1,402 best travel experiences in the world.
Established in 1996 by Jennifer and Brian Hew, Kamalame Cay is the antithesis of the corporate luxury resort— an oasis of verdant tropical foliage and deserted white sand beaches scattered with a collection of individually designed West Indies cottages, bungalows and villas. Separated from Andros Island by a turquoise inlet and edged by the Andros Great Barrier Reef and some of the world's finest coral gardens, this private, 96-acre island welcomes just 100 guests. Equipped with an over-water spa, tennis courts, freshwater pool and tiki bar, Kamalame Cay also boasts some of the finest cuisine in the islands along with a unique roster of experiences and wellness programs.
Having taken over management of the resort in 2011, Directors Michael King and David Hew expanded upon Jennifer and Brian's original vision to create a truly extraordinary escape. With background in art, advertising, and luxury magazine publishing across Sydney, Miami, London and Toronto, Michael and David pooled their international panache. Well-traveled food and design aficionados, they reimagined the islands cuisine program, enhanced the wine and spirits list, refreshed décor, guided fresh directions in interiors and architecture, and introduced social and culinary events that drew a stylish crowd from around the world.
"This award would not be possible without our first-class Bahamian team, who work tirelessly every day to make Kamalame such a special place and our local partners and bespoke suppliers for their ongoing commitment to excellence," concluded Michael King.
The Condé Nast Traveler Readers' Choice Awards are the longest-running and most prestigious recognition of excellence in the travel industry and are commonly known as "the best of the best of travel." Under Editor-in-Chief Pilar Guzmán, the Readers' Choice Awards have become more selective and specific to the passions that inspire today's travelers.
The Readers' Choice Awards are announced in the November issue of Condé Nast Traveler, on newsstands nationwide on October 25, 2016. The full list is published exclusively online, at http://www.CNTraveler.com/rca.
###
For More Information About Kamalame Cay, visit http://www.kamalame.com; email info(at)kamalame(dot)com or call 1-877-768-9423.
Instagram: @ Kamalame Cay
Twitter: @ KamalameCay
Media Contacts:
Condé Nast Traveler:
Victor De Vita –victor_devita(at)condenast(dot)com, 212-286-6449
Kamalame Cay:
Jessica Bradford- jessica(at)2bprinc(dot)com, 626-379-2381
Emily Baldwin- Emily(at)2bprinc(dot)com, 973-346-2580