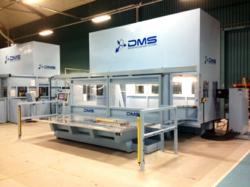 After exhaustively researching our options we selected DMS because they were able to produce a high quality CNC machine built to our strict standards, at a reasonable price.
Colorado Springs, CO (PRWEB) May 29, 2013
Kaman Composites UK is a major aerospace supplier, providing composites parts to key aircraft programs, both commercial and military. These contracts include the complete build and assembly of a number of predominately composite structures, including support design, production tooling, detail production and the assembly of flight critical structures. In the fall of 2011, the production team at Kaman decided to explore their equipment options, per their stated objective to increase their capacity and capability in a cost effective manner. Diversified Machine Systems, a leading producer of 3 axis & 5 axis CNC routers and machining centers, has a unique approach to equipment manufacturing. DMS' experience as an OEM and our engineering expertise is unmatched, allowing us to design custom, composite machining solutions to meet customer's precise specifications.
Kaman's primary concern was their throughput and operating efficiency, but when working with composites, dust collection is also a key consideration. And as one of the first companies in the UK to receive approval from the European Aviation Safety Agency (EASA), they had to ensure that they followed all regulatory guidelines. Kaman prides themselves on their commitment to lean manufacturing, with an emphasis on teamwork and innovation. DMS has a very similar business approach, and responded by creating a custom, enclosed CNC router, developed to address all of Kaman Composites specific application needs. This DMS 5 axis router, one of two that Kaman has purchased, is revolutionary because it features a unique, overhead enclosure that completely contains the dust, without taking up a lot of space on the floor. More importantly, it's also been highly effective in eliminating production delays and improving workplace efficiency, allowing Kaman to expand their customer base and secure more lucrative contracts.
According to David Woodward, Group Lean Coordinator at Kaman Composites UK, "We knew that in order to excel in the rapidly growing aerospace composites market, we had to make improvements to our facility and our manufacturing process. After exhaustively researching our options we selected DMS because they were able to produce a high quality CNC machine built to our strict standards, at a reasonable price."
This latest acquisition has allowed Kaman to continue with their ambitious growth plans. Their facility now boasts the latest in CNC manufacturing capabilities for the production of high precision mold tools for composite components, extensive clean room lay-up facilities, unrivaled autoclave and out-of-autoclave capacity for processing composite components, the assembly skills to produce bonded honeycomb core structures, as well as state-of-the-art trimming and routing equipment.
As noted by Ed Hilligrass, Executive Vice President at Diversified Machine Systems, "Our partnership with Kaman Composites UK is indicative of our solutions-based approach to projects. We enjoy the collaborative process, and with our expertise in composites machining, it was really rewarding to work with Kaman to find creative ways to streamline their production efforts and help them succeed."
For more information about Diversified Machine Systems, visit us online at http://www.dmscncrouters.com.