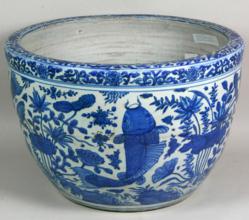 A rare size with a fish and lotus motif, one of the most popular in Ming period porcelain painting. - Benjamin Y Wang, Asian Specialist
Boston, MA (PRWEB) April 05, 2011
Kaminski Auctions is pleased to announce their spring Asian Sale April 8th & 9th Friday and Saturday beginning both days at 5pm. Benjamin Y Wang, Kaminski's Asian specialist has put together an important collection of exemplary Chinese, and Japanese ceramics, porcelain, furniture and art. Also included in the sale is an impressive collection of Thai bronzes from a private collector.
Many of the pieces are from the lifelong collection of Mr. and Mrs. Donald Ryan originally of Pasadena. CA. Additions to the sale are from personal collections of estates in Brookline, Wellesley, Natick and Gloucester.
A highlight of the sale is an important album of sketches originally presented as a gift to Alice Boney the prominent American oriental art dealer. Miss Boney known as "The doyenne of Oriental art" was a noted adviser to museums and collectors of Chinese and Japanese art.
Totaling 10 leaves of sketches, ink on paper the album depicts the water country scenes of southern China, which Marco Polo once called "the Venice of the orient."
There is an excellent group of jade pieces on offer, in particular a 19th century white jade vase with intricately carved chrysanthemums, bamboo, and lilies in relief. Also included in the sale are two important Gangue period (1875-1908) imperial porcelain chargers, as well as two rare porcelain fish tanks from the Ming Dynasty (1368-1644) .
Preview of the sale begins Monday. April 4th through Friday, April 8th from 10:00am-5:00pm at Kaminski Auctions gallery at 117 Elliott Street, Rte 62, Beverly, MA.
For almost two decades, Kaminski Auctioneers---headed by Frank Kaminski---has specialized in appraising and auctioning fine antiques from estates throughout New England. The firm's extensive clientele includes institutions, businesses, local historical societies, and private individuals. Dealers and collectors also consider Kaminski as an important source of period antiques, oriental rugs, jewelry, silver, porcelain, and fine art.
###