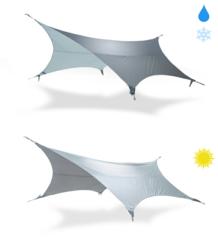 "I am super excited to literally see this new Kammok project get off the ground! The Kammok Roo camping hammocks have become one of my family's favorites and has become a firm staple on my own adventures." Survival and Outdoor Adventure star Bear Grylls.
Austin, Texas (PRWEB) June 04, 2013
Outdoor adventure brand Kammok is launching a new Kickstarter campaign to introduce the Glider™, a portable weather shelter and rain tarp system with integrated rainwater retention and heat reflective technology.
After entering the market in 2011 with the 10th largest Kickstarter project in history at the time, Kammok hopes to introduce their second breakthrough product with an even bigger crowdfunding campaign.
"I am super excited to literally see this new Kammok project get off the ground!" said survival and outdoor adventure star Bear Grylls. "The Kammok Roo camping hammocks have become one of my family's favorites and has become a firm staple on my own adventures. Kammok is dedicated to innovative design and robust-engineered materials - and products such as an outdoor shelter with a water retention system is typical of their vision! We are all about taking adventure to the next level."
The Glider is the first ever consumer camping or relief shelter to include built-in rain retention technology. The patent-pending design includes catenary curves, inspired by the shape of the Sugar Glider flying squirrel. Adjustable suspension creates natural "rain gutters" where water is channeled along these curves to the four feet of the Glider. Flexible water bottles at the base of the feet collect the rainwater using patent-pending BPA-free plastic connectors for immediate drinking or storage.
The Glider™ is made using Kammok's revolutionary Amphibiskin™(link) material, which seamlessly integrates amazing waterproofness with heat reflective technology. Amphibiskin is constructed using high tenacity fiber technologies, starting with a CORDURA® brand base fiber that makes the finished fabric exceptionally durable. The fabric is then siliconized for added strength, and treated with proprietary waterproof and heat reflective finishes. The result is an ultralight fabric, that can protect against downpours, snowstorms, and against the blistering heat.
"We didn't want to just make a new shelter; we wanted to revolutionize the way people think about shelters," said Greg McEvilly, CEO and Founder of Kammok. "After watching the world witness the tragedy of the Haiti earthquake in 2010, I wanted to find a way to create a portable shelter with the ability to retain and redirect rainwater. After the earthquake, problems of flooding arose in the disaster relief camps, and ironically these people did not have adequate access to clean drinking water. The idea for the Glider grew out of that observation. In the process, we sought to completely redefine the weather relief shelter--combining the basic human needs for shelter and water in a single piece of equipment."
With a variety of mounting and suspension settings, the Glider is a multi-functional rain tarp and shelter. Not only does it accompany the Kammok Roo camping hammock and accessories on the trail or backcountry, it can also be used on its own, as a beach shelter, tailgating tent, triathlon or marathon tent, emergency shelter and much more.
The Glider is currently available through the Kammok Kickstarter campaign at http://bit.ly/KammokGlider The Kammok team is excited to launch their second product through the Kickstarter community--which has played a major role in making Kammok an internationally recognized brand. Kickstarter fosters a spirit of creativity, innovation and diversity, creating an environment that promotes the entrepreneurial spirit.
About Kammok
Kammok® is an outdoor lifestyle brand bringing technically innovative products to the socially conscious adventurer. Every Kammok purchase has a direct impact on helping people in need and investing in improving our natural resources. Kammok is partnered with Malaria No More in the fight against malaria, CTC International as a 1% For the Planet member and is a registered B Corporation. Kammok's mission is to: Equip and Inspire for Life Changing Adventure™.