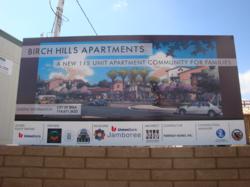 There will be a total of 115 units, ranging from one to three bedroom garden-style apartment homes for families earning 30%-60% of the area media income.
Brea, CA (PRWEB) October 15, 2012
One of California's largest affordable housing developers, Jamboree Housing Corporation, has announced another ground breaking celebration being held Monday, October 15, 2012 at the site of their upcoming Birch Hills Apartment Homes in Brea, CA. Held by special invitation, this ceremony will take place at the project site, adjacent the Birch Hills Golf Course, located at 245 N. Kraemer Blvd.
Kana Pipeline was awarded the underground wet utility pipeline infrastructure contract for this project totaling nearly one-half million USD. Kana began construction in early July, and once completed, will have installed well over 5,000 LF of sewer, domestic water, fireline and storm drainage underground pipeline infrastructure. "The most substantial portion of work for us is the drainage systems," indicated, Ken Cornell, Kana's Project Manager, "which will involve a proprietary system to harvest rainwater."
As part of the underground storm systems scope of work, Kana Pipeline coordinated efforts with Torrent Resources, who is known for having revolutionized the drainage industry with their exclusive patented MaxWell™ Systems. This type of dry well system will help contribute to the Developer's ongoing commitment to sustainability in working towards achieving a Leadership in Energy & Environmental Design (LEED) certified Platinum rating for this project.
The Maxwell IV system, which has already been installed on this project, is a 1000-gallon dry well system, which will be used to treat drainage water before it seeps into the ground. According to Kevin White, Torrent's California Operations Manager, relying on Northern California water has repercussions that can make Southern California vulnerable by being reliant upon other, non-local water sources. Installing an infiltration system like this one at this site "allows us to capture, infiltrate and restore groundwater tables" added White, "making land more sustainable."
There will be a total of 115 units, ranging from one to three bedroom garden-style apartment homes for families earning 30%-60% of the area media income. According to Jamboree, this Spanish-influenced development, which is part of the new La Floresta master-planned Community, will feature a 4,400 square-foot community recreation center, laundry facilities, and landscaped community spaces for outdoor recreation and garages for each resident.
Additionally, this new residential community will feature conference rooms, a media room, community kitchen, computer lab and classroom space in the community building. Outside, residents will come to enjoy a spa and pool, together with outdoor dining areas, tot lots and a community garden.
Kana Pipeline expects to complete this project by end of this year or sooner. The overall anticipated completion of this project is in August 2013.
For additional information on the topic of this release contact Media Relations at 714-986-1400 or info(at)kanapipeline(dot)com, or visit http://www.KanaPipeline.com.
About Kana Pipeline:
Established in 1984, Kana Pipeline is a leading underground pipeline contractor. Kana specializes in new residential construction, installing wet utility pipeline for dozens of homebuilders throughout Southern California. Kana also specializes in subsurface utility engineering (SUE) for architectural and civil engineering firms.