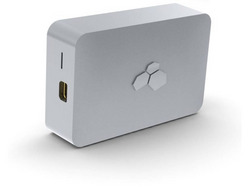 Brea, CA (PRWEB) May 19, 2010
Kanex® announces the worldwide availability of its long-awaited Kanex XD, an HDMI to Mini DisplayPort converter specifically designed for Apple® iMac 27-inch.
Kanex XD eliminates the need for another display and maximizes the functions of Apple's iMac 27-inch. Utilize the LED display to receive full screen HD playback of Playstation®3, Xbox® 360, and Blu-ray with audio. By seamlessly converting HDMI sources to Mini DisplayPort format, Kanex XD connects and plays HD content. The converter supports a maximum resolution of 1920x1200 and will output per display's EDID specifications.
Kanex XD first gained recognition at Macworld 2010, where it received the "Best of Show" award for its innovative functionality. Kanex XD will be featured at E3 Expo 2010, one of the largest gaming expos, held in Los Angeles, California from June 15-17. Attendees can participate in hands-on demonstrations and receive a full overview on the product's features and capabilities.
About Kanex
Kanex. Pronounced "Connects", does just that. A brand that connects the separated worlds of consumer electronic accessories. Kanex products start from a simple idea, with a first to market mentality focused on the always changing consumer electronic technologies industry. We design, develop, and manufacture innovative and creative solutions, focusing on audio video components that strive to be the influential force behind Apple connectivity solutions. With deep roots in creative engineering, our specialty lays in merging current and future technologies. Kanex is built upon a strong foundation of innovation and adaptability that allows the brand to be nimble and stay on top of the always changing consumer electronic technologies. For more information about Kanex and its products, go to http://kanexlive.com/
Simple connections, simply Kanex…
Kanex® is a registered trademark of Apogee Inc.
Apple® is registered trademarks of Apple Inc.
PlayStation®3 is a registered trademark of Sony Electronics Inc.
Xbox® is a registered trademark of Microsoft Corporation.
###