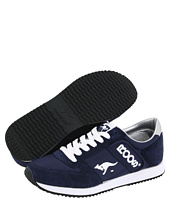 Henderson, NV (PRWEB) June 02, 2011
Remember the 80's—the decade of neon, shoulder pads, and micro-minis? Remember when Members Only was a jacket, not an online shopping club—and legwarmers were a girl's favorite fashion staple thanks to a little movie called Flashdance? The 80's were totally awesome and so were the KangaROOS sneakers we wore—you remember…the ones with the pockets where you could stash your key or money while you were working out at the gym or hanging with your friends. Tubular, right?
Well, Zappos.com has some great news for all of you adults who crave a little flash from your past. The KangaROOS brand and its popular throwback-style sneakers—in all their colorful glory—are now being sold online exclusively at Zappos.com.
"The retro trend is more popular than ever and wearing a style that reminds people of a cool, laid-back time in their lives is, well tubular," said Brooke Hyden, style expert for Zappos.com. "Whether you're running errands with the kids, going to the movies, or just kicking back at home, the feeling of nostalgia the KangaROOS brand evokes is sure to make you feel happy and put an extra little bounce in your step."
Parents can now give their kids a chance to experience the 80's culture they loved with throwback styles available for the whole family. Choose from more colors than you can count, and in colors to suit everyone's tastes. KangaROOS are affordably priced from $50-$55 for women and men, and $30-$40 for kids—and of course, they're only available at Zappos.com. Tubular.
About Zappos.com
Established in 1999, Zappos.com has quickly become a leader in online apparel and footwear sales by striving to provide shoppers with the best possible service and selection, with gross merchandise sales exceeding $1 billion annually. Zappos.com currently stocks millions of products from over 1000 clothing and shoe brands. Zappos.com was recognized in 2009 and 2010 by FORTUNE MAGAZINE as one of the "100 BEST COMPANIES TO WORK FOR". Zappos.com is proud to be named a J.D. Power 2011 Customer Service Champion and is only one of 40 companies so named in the U.S. More information about the company's customer service philosophy, unique company culture, and job openings can be found at about.zappos.com More information about the Zappos Insights business membership program can be found at zapposinsights.com.
###