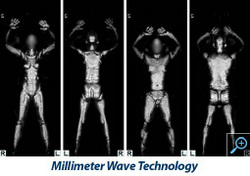 Overland Park, KS (PRWEB) June 8, 2010
Kansas City recently acquired it first full body X-ray machine in its airport and with that, Quinn Plastic Surgery Center in Overland Park, Kansas, has had a lot of requests for information regarding the X-ray machine and its detection of implants.
First of all, here is a little information about the X-ray scanner. The one that is being tested at the Kansas City Airport uses Millimeter wave technology. According to the Transport Safety Authority or TSA, Millimeter wave technology "bounces harmless electromagnetic waves off the body to create a black and white three-dimensional image." It creates a picture in a private viewing area that is similar to photograph negatives that TSA agents use to detect any potential threats to passenger safety. The TSA assures us that the faces of those being scanned will be blurred out. Here is a sample image of what the Millimeter wave technology produces:
As you can see the images can be quite detailed, and for that reason many people have felt that this is a violation of privacy. According to the TSA though, this is the less invasive alternative to being "pat-down" by a TSA agent. Not all passengers will be required to go through this full body scan. Only a random selection of passengers and those who set off the metal detector when entering the gate.
Theoretically, the Millimeter wave technology is being used only to detect metallic objects, but in the process, many passengers are finding that implants, colostomy bags, and artificial limbs are coming into question. TSA officials assure us that eventually trained agents will be able to recognize implants and those passengers will not be questioned. Full body screening is optional for all passengers. Passengers who do not wish to utilize this screening will receive an equal level of screening, including a physical pat-down. For those with breast implants, this might be the less invasive and less embarrassing route.
Dr. John Michael Quinn of Quinn Plastic Surgery Center suggests that passengers who do have implants contact their surgeon's office for the correct medical letter starting that a surgical procedure has been performed and that the scanner might detect an artificial implant.
Quinn Plastic Surgery Center has been providing plastic surgery treatments to patients in the Kansas City area for more than 20 years. Dr. John Michael Quinn and his practice, Quinn Plastic Surgery Center, are acclaimed by patients and colleagues alike for the deep commitment to providing the utmost in surgical care, safety and results.
# # #