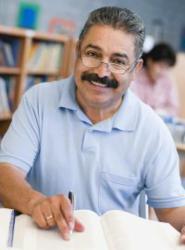 Diploma 2 Degree virtual school is designed to allow adults to work at their own pace in their spare time on whatever classes they still need to earn a high school diploma.
Lyons, Kansas (PRWEB) June 18, 2013
Nobody makes all the best choices as a teenager, and we often find ourselves looking back and wishing we had done things differently. With this in mind, a new program has been created to give Kansas adults a second chance to earn a high school diploma. Lyons 405 is excited to announce the opening of Diploma 2 Degree, a new high school diploma program in Kansas designed especially for adults who did not graduate from high school. As a public charter school, this program is free to any Kansas resident over 21 years old.
Diploma 2 Degree virtual school is designed to allow adults to work at their own pace in their spare time on whatever classes they still need to earn a high school diploma. Some classes can even earn the students dual credit, counting toward both high school completion and toward college. This unique program is the first to allow students to earn up to 24 college credits for free online.
Lyons USD 405, a local charter school in Lyons, Kansas has contracted with CompuHigh to provide online high school courses for this new charter. EduKan, a consortium of Kansas community colleges, provides college credits for dual enrollment classes in this program. Even though the charter school is based in Lyons, it is open to adult student all over the state of Kansas.
CompuHigh, the online high school contracted to provide Diploma 2 Degree's curriculum, has a long record of helping students learn even when they had been unsuccessful in traditional school settings. Their classes allow students to work one on one with a certified teacher to revise each assignment until it is 'right'. CompuHigh calls this Mastery Learning, since a student must 'master' one lesson before continuing on to the next. This method has been proven to help students build essential skills as well as the confidence that they can learn successfully. Diploma 2 Degree's teachers are specially trained in mastery online education and have many years of experience building supportive student-teacher relationships online.
"Diploma 2 Degree virtual school isn't just about second chances, it's about third and fourth and fifth and many more chances," explains Jeannette Geib, CompuHigh's Educational Director. "Online school isn't any easier than 'regular' schools. There isn't any way to get around the fact that learning takes effort and time. But there are a number of reasons why online school can work better for many students. Everyone learns in different ways and at different paces. Our teachers love working with students who didn't quite 'get it' on their first try. We believe it's this process of trying again that is what real learning is all about."
According to the National Center for Educational Statistics, "Young adults with a bachelor's degree earned more than twice as much as those without a high school diploma." That's a 114% increase in median yearly income from $21,000 for young adults without a high school diploma to $45,000 for young adults with a bachelor's degree. An associates degree increases earning power by over 76% and even a high school diploma increases earning power by more than 42%. "These numbers just reinforce what we all understand: that education is the ticket to a better life," says Geib. "This new program removes so many obstacles for adults in Kansas to grasp that ticket. Location, age, families, jobs, and a multitude of other difficulties are no longer barriers to Kansas adults who want to earn their diploma and better their lives."
Diploma 2 Degree has a limited number of openings for the 2013-2014 school year. Interested adults who are Kansas residents and 21 years or older are encouraged to go online to http://www.diploma2degree.com or call 1-866-859-0777 to find more information and begin the application process.