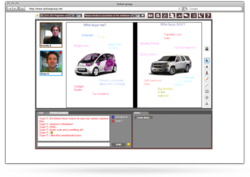 Online technologies to address our client's needs are emerging, with industry innovators like ActiveGroup leading the way.
Atlanta, GA/London, UK (PRWEB) May 16, 2011
Today, ActiveGroup Ventures, Inc. (http://www.activegroup.net) announces a global partnership with Kantar—one of the world's largest research, insight and consultancy networks--bringing ActiveGroup's video streaming, online full-a/v and chat-based interview tools, and next-generation bulletin/community boards to Kantar's industry-leading suite of research offerings and methodologies.
"ActiveGroup is thrilled to be partnering with Kantar," says Ken Balog, President of ActiveGroup. "Kantar is the premiere global market research organization with a long history of excellence across its many companies. This partnership represents a significant opportunity for both ActiveGroup and Kantar companies to extend the reach and impact of our methodologies and technologies. ActiveGroup prides itself on our ability to provide the best online market research solutions to meet our partners' research needs and we are especially proud to be able to support Kantar's employees and research efforts in 100 countries worldwide."
As part of this partnership, ActiveGroup will be providing online tools and services which will extend the reach of Kantar companies in terms of geography as well as new methodologies. ActiveGroup's online services include access to traditional facility-based qualitative research via video streaming, and as part of this agreement, ActiveGroup will be providing service and support to Kantar facilities worldwide. In addition, ActiveGroup's live and asynchronous online platforms—available in 16 languages--will further enhance the scope and flexibility of Kantar's qualitative research initiatives.
"Online technologies to address our client's needs are emerging, with industry innovators like ActiveGroup leading the way. They have been at the forefront of innovation for quite some time and have contributed greatly to bringing online solutions to researchers around the world," says Matthew Graham-Hyde, CIO of Kantar. "After extensive global testing, we are excited to be bringing their advanced solutions to our network of companies. We look forward to developing a partnership that delivers high-quality online research tools to our companies and clients."
ActiveGroup and Kantar are already working on installing equipment throughout their facility network and over the next few months will begin the rollout and delivery of products and services to Kantar companies across the globe. Mr. Balog concludes, "ActiveGroup has been a leader in online solutions for market research for over a decade, but we are building something new and exciting. A partnership with Kantar represents the fresh direction and focus ActiveGroup will be taking over the coming months and years—providing researchers the global ability to Be Anywhere, Research Everywhere."
About ActiveGroup
ActiveGroup's online solutions for market research are used by clients around the world. These solutions were developed with one focus in mind—give clients the ability to Be Anywhere, Research Everywhere™. ActiveGroup, with primary offices in Atlanta, London, Beijing, and Sofia, offers access to 1200 focus group rooms worldwide, and works with clients ranging from Fortune 500 corporations to many of the leading global market research agencies.
About Kantar
Kantar is one of the world's largest insight, information and consultancy networks. By uniting the diverse talents of its 13 specialist companies, the group aims to become the pre-eminent provider of compelling and inspirational insights for the global business community. Its 28,500 employees work across 100 countries and across the whole spectrum of research and consultancy disciplines, enabling the group to offer clients business insights at each and every point of the consumer cycle. The group's services are employed by over half of the Fortune Top 500 companies.
For further information, please visit us at http://www.kantar.com.
All product and company names herein may be trademarks of their registered owners.
# # #