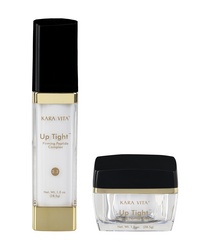 At Kara Vita, the first ingredient in every product is integrity
ST. PETERSBURG, Fla. (PRWEB) May 7, 2008
"At Kara Vita, the first ingredient in every product is integrity," says Deborah Duffey, President and Chief Product Development Officer of Kara Vita. "Kara Vita maintains the purity of its products by manufacturing them to pharmaceutical standards using only the purest, highest-grade ingredients. Before any new product is introduced, it has been thoroughly tested. We engage in a rigorous research and development process, we create our products in our FDA regulated facility, we conduct quality control testing and product validation on all products and we follow up with long-term testing. Our advancements in peptides are the latest in our continuing quest to improve skin care."
Up Tight is the latest skin care product from Kara Vita. It uses peptides targeted to improve the face and neck. Kara Vita is a direct sales company that offers pharmaceutical-quality skin care products. The company's product line is designed to work in harmony to provide personalized skin care to meet every customer's particular needs.
In addition to its emphasis on product quality, Kara Vita also stresses the importance of education. Because Kara Vita products are potent and effective, they are sold by consultants who meet personally with customers to ensure that they understand the products they are buying and know how to use them effectively. The knowledge of peptides in skin care is just one example of this education process. This direct-sales model enables each consultant to recommend customized product solutions for their customers.
Kara Vita is a web-based organization, which enables it to provide extensive support to its consultants and customers. Consultant training and development is provided online, product information and education are provided online, and products ordered online are shipped directly to customers.
Up Tight(TM): Uses advanced peptides and key bioactives including Acetyl Hexapeptide-8 (Argireline), Palmitoyl Oligopeptide, Palmitoyl Tetrapeptide-7 (Matrixyl 3000), Acetyltetrapeptide-9 (Dermican), Argania Spinosa Kernel Extract, Rumex Occidentalis Extract. Item #4018: Up Tight(TM) is $119.00, 1 ounce.
About Kara Vita
Kara Vita produces products that provide measurable, visible improvements to skin and beauty. Through a direct sales model, trained consultants recommend customized product solutions to customers. The product line uses only the purest, highest-grade ingredients. Every added element serves a specific purpose and enhances overall effectiveness. Further, the company time-releases ingredients to the skin's deeper layers using patented Lyphazome(R) penetrating nanotechnology, amongst the most complex in the skincare industry. The company's mission is to change lives by improving skin health and beauty, and by offering a solid business opportunity so that women can reach their professional and personal goals for health, beauty and life.
KEYWORDS: peptide, peptides, skin, skin care, wrinkles