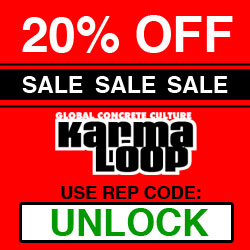 It's truly the best - it's the only - combination of giveaway and sale that I've ever been a part of that is this huge. I've never seen such an opportunity to save on a daily basis
Boston, MA (PRWEB) November 29, 2012
Orders over $100 get a 21% discount and free shipping. Everything else gets 11% off plus free shipping. Shoppers must use two codes at checkout, a promo code and a coupon code.
They need to enter karmaloop promo code: REDGRN and combine with karmaloop rep code: unlock
The Karmalooop coupons and promo codes can change but the rep code does not.
Kazbah is also extending its Cyber Monday sale. Shoppers can enjoy savings of more than 30% on their favorite underground brands, with orders shipped free of charge.
Karmaloop's holiday gift guide offers plenty of choices in apparel, footwear, and accessories. With a selection of gifts under $100, $50, and $25, it's easy to find items to fit a particular budget. Karmaloop code is even giving away free cash – $10 for subscribing to its E-list – to allow customers to jumpstart their holiday shopping.
Karmaloop has recently launched three new apps for its online stores so customers can shop the best deals while on the go. Karmaloop, Miss KL, and PLNDR can now be accessed from iPhones and Android phones.
About Karmaloop.com
Founded by Greg Selkoe in 2000 and headquartered in Boston, with an office and TV studio in New York City, and offices in Los Angeles and Copenhagen, Karmaloop.com is one of the largest and most-respected streetwear retailers on the Internet. The company is anchored by its multi-platform retail website and lifestyle network, which attracts more than 4.5 million unique monthly visitors and includes both retail shopping and original video and blog content. Karmaloop.com sells over 500 men's and women's brands to its loyal "Verge Culture" customer base spanning 80 countries. Karmaloop Inc. owns and operates Karmaloop.com, KarmaloopTV.com, PLNDR.com, Kazbah.com, BoylstonTradingCo.com, Brick Harbor, Karmaloop EU, and MissKL.com, and owns several private label clothing brands such as Advocate, Fenced, Flüd, KLP, Pilot Licensing, Society Original Products, and Spool & Thread.
# # #