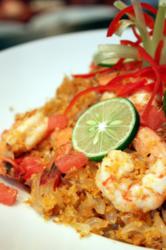 San Francisco, CA (PRWEB) November 22, 2011
Million Thai, a San Francisco Thai food restaurant, is pleased to announce their $2 beer specials, $5 appetizer specials, and their Thai Food Fusion dinner special. Patrons of Million Thai can experience one of the best karaoke bars/restaurants in downtown San Francisco. Million Thai is also the right place to spend happy hour in downtown San Francisco where there is truly something for everyone.
San Francisco's Thai café, Million Thai, is located at the Hotel Milano in San Francisco. It serves different Thai dishes and can accommodate up to 230 persons in one comfortable setting. Million Thai has a high ceiling dining room, full service bar, and karaoke lounge. They have a wide selection of songs that are available in English, Thai, and Chinese. Karaoke is from 10:00 pm - 2:00 am, daily.
Million Thai serves lunch and dinner 7-days a week. Dinner is served well into the night perfect for the late night party goers. The San Francisco Thai restaurant hosts a Thai-style buffet for lunch every Friday through Sunday, and diners can enjoy their favorite sports team battling it out on the big screen television.
Visit Million Thai today at the Milano Hotel in San Francisco, 55 Fifth Street in San Francisco . They can be reached at (415) 529-5146 or online at http://www.million-thai.com.
About Million Thai
Million Thai Restaurant and Bar is a newly opened restaurant right in the heart of downtown San Francisco . It is located at the Milano Hotel at 55 Fifth Street . It is open to serve customers from 11am till 2am. Taste exquisite Thai cuisines that suit people's business lunch or a late night meal with loved ones. So come visit the restaurant and experience its tasteful and sophisticated ambiance.
###