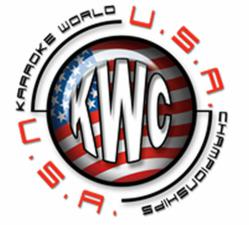 This competition is about helping karaoke singers and our goal is to help as much as we can
Cincinnati, OH (PRWEB) July 26, 2011
Karaoke World Championships USA (KWCUSA) announced today the beginning of their new 2011-2012 season. Venues can now sign up and start their competitions. KWCUSA wraps up the finals of the 2010-2011 season with the taping of the nationals at the House of Blues in Hollywood for ABC's New Summer Series "Karaoke Battle USA".
Many venues want to start their competition while the show is on the air. One suggestion from other venues is to have Karaoke Battle USA viewing parties followed by competitions on the same night or following nights.
KWCUSA is off to fast start already with over 60 venues anticipated to sign up in Texas alone. Texas has been divided into three areas providing for three separate Texas State Finals, one each for NORTH, WEST, and SOUTH Texas.
Regions and timelines will be finalized as we learn more about the success of the show. Of course the belief is that the show will be a hit and renewed for years to come. Regardless, KWCUSA will continue to grow as the only USA competition authorized to send their winners to the Karaoke World Championships.
KWCUSA has updated license agreements including requirements for legal music venues and legal karaoke tracks. KWCUSA is also working with karaoke manufacturers to provide easy cost effective ways for venues or Karaoke Hosts to get legal. Please contact Wendell Payne at 866-610-7464 ext. 953 for details. KWCUSA supports karaoke to its core and helping the entire karaoke industry remain strong. Wendell Payne, President of KWCUSA says, "We are working closely with the industry to provide a way for legitimate karaoke to grow and for the illegal karaoke to get legal. The instructions we provide will make it very easy and affordable to be legal or even start as new hosts legally."
Along with the new season KWCUSA has new sponsorship opportunities available for the new season and with exciting options.
License fees are $250.00 per local venue and $1250.00 per state venue. The state fee includes hotel costs to the regional for the top male and top female singer from the state. So for the first time at least hotel costs will be covered for the top male and top female in each state. KWCUSA long term goal is to reduce the costs to the singers as much as possible. The more successful the competition becomes the more those goals are attainable. Payne says, "This competition is about helping karaoke singers and our goal is to help as much as we can"
Stay tuned and spread the word
Spread the word and follow KWCUSA and Karaoke Battle USA
http://abcnews.go.com/Entertainment/Karaoke_USA/
http://www.kwcusa.net
http://www.facebook.com/karaokebattleusa
http://www.facebook.com/KWCUSA
And finally you can spread the word on Twitter! You can follow all of our Twitter feeds and encourage friends/family to do the same:
@kwcusa
@ABCKaraokeUSA
@realjoeyfatone
@carnie_wilson
###