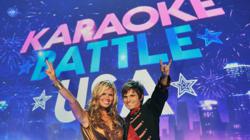 It's a very exciting time and I eagerly await releasing material to all my fans, and making many more in the years to come!

Cincinnati, OH (PRWEB) November 17, 2011
Karaoke World Championship USA (KWCUSA) champions travel the road of success and excitement. After wrapping up the first season of ABC's Karaoke Battle USA, KWCUSA champions Cassandra Mae and Josh Scholl went on the Karaoke World Championships in Killarney, Ireland. There Cassandra Mae won the gold as the female Karaoke World Champion and Josh Scholl finished in the top ten. These two super talented singers were not finished there. They have been both very busy with appearances and both working on their new music with Hollywood records.
Cassandra Mae will host an event at Frazee Event Center from 6pm to Midnight November 19. Cassandra Mae will perform along with the Fat Cats and Josh Scholl will be a special guest performer.
Since the show ended, Josh had been performing throughout October every weekend at Six Flags Great America in a zombie rock show entitled 'Dead Man's Party" singing Alice Cooper, 30 Seconds to Mars, and Nickleback tunes while dressed and made up as a zombie He also had a few solos in the nighttime spectacular "Full Moon Rocksplosion", which can be found on YouTube
Cassandra Mae Now is spending most of her time writing and discovering her sound and "brand" as an artist. She has sent a few original samples to Hollywood Records, and will be sending more in the coming weeks. She is looking forward to getting a single out there and recording the rest of her original material, getting a band together, and performing all winter, but first Hollywood and coming up with a plan of attack and producers to work with. Cassandra says, "It's a very exciting time and I eagerly await releasing material to all my fans, and making many more in the years to come!"
About Karaoke World Championships USA (KWCUSA)
KWCUSA mission is to organize, facilitate, and manage a viable, impartial competition for the entire United States.
KWCUSA goal is to include as many possible singers from all states and territories of the U.S.A. and provide this opportunity to all amateur performers to represent our country at the Karaoke World Championships.
KWCUSA objective is to identify, prepare, promote true U.S.A. karaoke champions utilizing all of our organizations resources efficiently and effectively observing all guidelines established by the Karaoke World Championship Organization and to provide the due diligence required to facilitate our mission in its entirety.
KWCUSA is the only organization in the United States affiliated with the Karaoke World Championship organization. KWCUSA champions exclusively represent the United States in the only international karaoke competition.
The Karaoke World Championships (KWC) is the largest and most prestigious international karaoke competition in the world. This multi-cultural international music event without boundaries permeates the spirit of music, entertainment and fun.
###