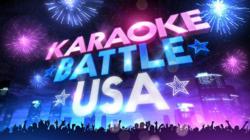 The Texas Bull in Gainesville, Texas is proud to announce our participation in KWCUSA
Cincinnati, OH (PRWEB) August 03, 2011
KWCUSA is eagerly anticipating the 2-hour premiere of Karaoke Battle USA on Friday August 12th at 9pm Eastern time on ABC.
From ABC NEWS:"Karaoke Battle U.S.A." on ABC shines the spotlight on the best karaoke singers across the country. The competition series is hosted by singer and actor Joey Fatone and a judging panel that includes singer/songwriter and TV host Carnie Wilson, music journalist Joe Levy (Maxim, Rolling Stone) and 2009 National Karaoke Champion Brian Scott. The series showcases regional competitions in the North (Chicago), South (Houston), East (New York) and West (Las Vegas), and culminates at The House of Blues in Los Angeles, where 8 semi-finalists will compete for the titles of America's Karaoke Queen and King. In addition to those bragging rights, winners will also receive a prize package that includes a Hollywood Records recording contract and a trip to compete at the Karaoke World Championships in Killarney, Ireland September 8-10.
KWCUSA venues across the country are starting their competitions riding the wave of interest and excitement created by the show. There are 15 million people across the country that participate in karaoke themselves and each and every one will truly appreciate the show.
KWCUSA Texas Venues are coming on strong with great venues and organizations supporting the competition. Fred Medrano of You Be the Star Entertainment says, "We are very busy putting together our 2011 -2012 Karaoke Contest Season which starts now. We expect thousands of singers to compete. We know this could be the start of something huge for our singers and are proud to be part of it".
From the Texas Bull, "The Texas Bull in Gainesville, Texas is proud to announce our participation in KWCUSA as the North Texas host for the KWCUSA Texas North State Finals. The Texas Bull hosts many Nashville and Texas Country headliners every Friday and Saturday night. The Bull is a major event venue which has a capacity of 650 people with an incredible sound system. All shows including KWCUSA Texas North 2012 will be broadcast LIVE around the world and recorded via Ustream at http://Notforgotten.tv. The Texas Bull has been recognized for their support of our troops by broadcasting every show for the last 2 years for men and women in the US Armed Forces specifically. Last year The Texas Bull was named 2010 Club of The Year for North Texas and Southern Oklahoma by Nitelife Magazine. We are proud to share KWCUSA North Texas with the troops this year. All Karaoke Battle Texas Bull weekly auditions, monthly qualifying contest, and quarter finals, along with the KWCUSA North Texas State Finals will be recorded and broadcast LIVE on Notforgotten.TV . Get your performances recorded and broadcast at The Texas Bull. Check us out at Http://TheTexasBull. Com and on Facebook at TheTexas Bull. "
Buffalo Wild Wings ( Abilene, Wichita Falls, Lawton) will soon be on board as they have for the last several years. Crabby Jacks in San Antonio just signed on today to join the 9 other venues already in Texas. KWCUSA says there are commitments from at least 20 venues in San Antonio alone and another 40 expected venues in Dallas-Fort Worth.
In Virginia, Stevens Toyota in Staunton has renewed their local venue and Associated Consultants has signed up as one of the two Virginia state finals.
In Upland, California, Grove Theater has come on board and this one is a great example of what this competition is about. Sherry Kinison was competitor this season and she is the producer at Grove Theater. She loved the competition so much, she went back home and signed them up. There is much more to come on this one.
Go to http://www.kwcusa.net for more information.
About Karaoke World Championships USA (KWCUSA)
Our mission is to organize, facilitate, and manage a viable, impartial competition for the entire United States.
Our goal is to include as many possible singers from all states and territories of the U.S.A. and provide this opportunity to all amateur performers to represent our country at the Karaoke World Championships.
Our objective is to identify, prepare, promote true U.S.A. karaoke champions utilizing all of our organizations resources efficiently and effectively observing all guidelines established by the Karaoke World Championship Organization and to provide the due diligence required to facilitate our mission in its entirety.
KWCUSA is the only organization in the United States affiliated with the Karaoke World Championship organization. Our champions exclusively represent the United States in the only international karaoke competition
The Karaoke World Championships (KWC) is the largest and most prestigious international karaoke competition in the world. This multi cultural international music event without boundaries permeates the spirt of music, entertainment and fun.
###