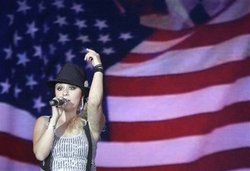 audience voting can easily be used to facilitate charitable donations as well
Mason, OH (Vocus) November 2, 2010
The Karaoke World Championship USA announced today that its 2011 singing competition will be expanded in preparation for an onslaught of seriously talented singers brought on by news that the KWCUSA will be profiled in a new network television series next summer. The show, called "America's Karaoke Challenge," will document the nationwide talent search for the greatest amateur singers in the U.S. The shows' climax will be played out live on a Las Vegas stage in the summer of 2011 when one man and one woman will be crowned national karaoke champions. The newly crowned champions go on to compete in Killarney, Ireland on September 8 – 10, 2011 for the world title.
Fresh off KWCUSA's strong showing in the 2010 world championship where Tami Marie placed 3rd, the highest for our women since the U.S. has participated, and Ed Pimentel was voted the audience favorite- the competition is adding its own "People's Choice" category. The new category will allow singer contestants at every level of the competition to receive votes from the participating audience, giving singers another opportunity to advance in the contest.
Venues that host local and state competitions will enjoy the boost in participation this will bring since it won't just be the judges who control the outcome of this category, the audience will get a chance to have their say, much like audiences do in other talent shows put on by major networks. Hosting venues will have the option to use text voting supported by applications such as "Firetext," and "audience voting can easily be used to facilitate charitable donations as well," according to Wendell Payne, President of the KWCUSA.
Also for the first time this year, singers at every level will receive the full support and backing of the KWCUSA organization when they register to compete at any level. Registered singers will get updates and information from the KWCUSA directly, whether they are competing at Gallagher's in Lake Havasu City, AZ or at Hearthstone in Boston. Singers will also get the benefit of the KWCUSA's upcoming, new, interactive website that will further simplify registration for both the singer and the venue. Singers will be required to submit a one-time $20.00 entry free.
To qualify, local competitions are starting now with KWCUSA and will conclude April 30, 2011. All state finals will be held in May 2011. You must be qualified through KWCUSA's local competition or online to compete at your state finals. Singers must sign up at KWCUSA web site.
The results will be televised in a NATIONAL NETWORK SUMMER SERIES IN 2011
About KWCUSA
Karaoke World Championships USA is the exclusive partner of Karaoke World Championships, Finland authorized to hold karaoke contest or karaoke competitions to determine USA representitives in world competition. This is not just a singing contest or singing competition. Each competitor is judged on five separate qualities. Please see our web site for rules and judging.
###