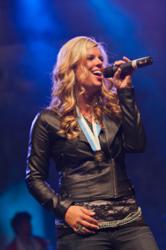 I will repay you back, KWCUSA, by performing at the Grammys, promise.
Cincinnati, OH (PRWEB) September 21, 2011
KWUCSA announced today Cassandra Mae won the gold for the USA women and Josh Scholl finished in the top 10 for the males. KWCUSA wrapped up the strongest ever season, for the first time KWCUSA bringing home the gold and a successful television series, Karaoke Battle USA on ABC. Cassandra says, "Unbelievable. All of the love and support from everyone was crazy-ridiculous in a wonderful way. Hearing my name be called as world champion made my heart swell. It's a feeling I'll never forget." KWCUSA showing was truly outstanding in the largest world championships yet.
Josh Scholl finished in the top ten and said, "I was completely humbled by the showcase of world talent I witnessed in Killarney. To compete with other nations head to head knowing I represented my entire country is I think the biggest honor one can receive. It truly was the Olympics of entertainment, because at that level it was so much more than karaoke! You don't sing Andrea Bocelli for karaoke! A huge congratulation to Cassandra for bringing home the Gold, I am honored to have witnessed her victory with everyone at KWCUSA, I will never forget this experience. You have changed our lives, Cassandra and I will repay you back, KWCUSA, by performing at the Grammys, promise."
For the first time the world's largest and most prestigious karaoke event, Karaoke World Championships took place in Killarney, Ireland on 8th – 10th of September.
The three day event took place in the INEC Convention Center. Altogether 43 singers competed for the ultimate karaoke title in 4 different rounds. Saturday was the final night with two elimination rounds. 5 best male and female singers got to perform their fourth song to the international jury, consisting of music and entertainment professionals from Finland, Ireland, USA, UK and Spain. Points from all four rounds were added up and winners with biggest total points were Cassandra Jopp from United States of America and Marc Hatem from Lebanon.
The championship was truly an international cultural event, uniting people of different countries of the world, not focusing on national cultural differences, but rather on promoting music without borders. 22 nations were represented at the Karaoke World Championships 2011 Event. Ann Marie Campbell, Irish Partner for KWC, says," It was an absolute honor to meet all the countries and such a pleasure to hear so much talent."
KWC's Organizing Committee holds numerous competitions throughout the year in partner countries to select participants who will take part in the final, where the two best singers, one man and one woman, will compete for the title of winner of Karaoke World Champion. KWC's mission is to provide the organization and assistance, as well as to assemble a group of participants from all countries, in its efforts to expand the reach and awareness of the karaoke movement.
More info for Karaoke World Championships can be found at: http://www.kwc.fi
Pictures for Press: http://karaokeworldcup.com/kwcpress/
Karaoke World Championships 2011 RESULTS:
WOMEN
1 Cassandra Jopp, USA
2 Estefania Gralla, Spain
3 Jerrica Santos, Canada
4 Lyda Shyla, Philippines
5 Viktoriia Pakhtusova, Ukraine
MEN
1 Marc Hatem, Lebanon
2 Joel Cruz, Philippines
3 Vladimir Pak, Russia
4 Riki James, New Zealand
5 Toni Laaksonen, Finland
About Karaoke World Championships USA (KWCUSA)
KWCUSA mission is to organize, facilitate, and manage a viable, impartial competition for the entire United States.
KWCUSA goal is to include as many possible singers from all states and territories of the U.S.A. and provide this opportunity to all amateur performers to represent our country at the Karaoke World Championships.
KWCUSA objective is to identify, prepare, promote true U.S.A. karaoke champions utilizing all of our organizations resources efficiently and effectively observing all guidelines established by the Karaoke World Championship Organization and to provide the due diligence required to facilitate our mission in its entirety.
KWCUSA is the only organization in the United States affiliated with the Karaoke World Championship organization. KWCUSA champions exclusively represent the United States in the only international karaoke competition
The Karaoke World Championships (KWC) is the largest and most prestigious international karaoke competition in the world. This multi-cultural international music event without boundaries permeates the spirit of music, entertainment and fun.
###