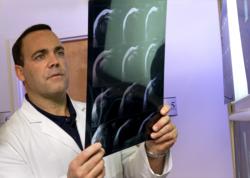 Dr. Karas has been named Atlanta Magazine's "Most Trusted Sports Medicine Specialist" in each of the last four years.
Atlanta, GA (PRWEB) June 21, 2011
Spero G. Karas, MD, sports medicine specialist and orthopedic surgeon, has been named Head Team Physician for the NFL's Atlanta Falcons. Karas will serve as the team's orthopedic surgeon and will be assigned to oversee the orthopedic and medical care for the Falcons' athletes and coaches.
Dr. Karas has been named Atlanta Magazine's "Most Trusted Sports Medicine Specialist" in each of the last four years. He is currently an associate professor of Orthopedics at Emory University and directs the Emory Orthopedic Sports Medicine Fellowship Program. He serves as the orthopedic surgeon for Georgia Tech baseball and consulting team physician for Georgia Tech, Emory University, Oglethorpe University, and Perimeter College athletics.
A native of Indiana, Karas received his undergraduate degree from the University of Notre Dame. He received his medical degree from Indiana University School of Medicine and completed his Orthopedic Residency at Duke University Medical Center.
He completed a Shoulder, Knee, and Sports Medicine Fellowship at the Steadman Hawkins Clinic in Vail, Colorado. He then served as Chief of the Shoulder Service, team physician, and director of the Orthopedic Sports Medicine Fellowship at the University of North Carolina at Chapel Hill.
Karas is dual-certified by the American Board of Orthopedic Surgery in both orthopedic surgery and sports medicine. He belongs to numerous prestigious medical organizations, including the NFL Physicians Society, the American Shoulder and Elbow Surgeons, the American Academy of Orthopaedic Surgery, the Arthroscopy Association of North America, the American Orthopaedic Society for Sports Medicine, and the American Orthopaedic Association. He has served on numerous committee positions within these national organizations.
Dr. Karas is the author of over 300 publications, presentations, and demonstrational videos and has presented his research at numerous institutions throughout the US, Europe, South America, and the Pacific Rim. He has trained and served as a research preceptor to residents, fellows, and graduate students in subspecialty care of the shoulder, knee, and sports medicine. His work has been featured in major television and print media, including NBC television, Men's Health Magazine, Ski Magazine, and numerous internet health services.
Karas began his duties February 24-27, at the NFL Invitational Combine in the Indianapolis Colts' Lucas Oil Stadium, home of the 2012 Super Bowl.
In conjunction with this press release, Dr. Karas would like to announce the renaming of his medical practice' official website from atlantashoulder.com to http://www.SperoKaras.com.
###