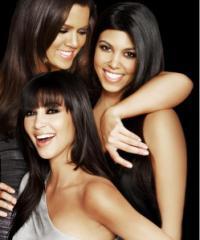 Our new DASH line of candles are designed and produced exclusively with each of our favorite scents in mind by For Every Body
Los Angeles, CA & Salt Lake City, UT (Vocus) December 30, 2009
Today, Becky Anderson, Founder of For Every Body, announced the signing of an agreement with the Kardashian group to be the exclusive manufacturers of their new DASH line of candles and gel sprays.
For Every Body, the nation's largest minority-owned candle manufacturing company and their design staff have coordinated personally with Kim, Khloe and Kourtney Kardashian and their teams, to design the packaging and choose the scents for their new line of DASH candles. The Kardashian and For Every Body the relationship began with a phone call from People Magazine after Kim Kardashian chose For Every Body's "Birthday Cake" as her favorite candle scent. Although the People interview never went to print, introductions were made and a partnership was born.
"Our new DASH line of candles are designed and produced exclusively with each of our favorite scents in mind by For Every Body," said Kim Kardashian. "They smell fabulous; we know everyone will love them!"
Kardashian line will be eco-friendly soy-based candles complete with For Every Body signature specialty toppers. As well as selling in the DASH retail store, the DASH candle and gel spray lines will be offered to department and retail stores such as Target, Macy's and Nordstrom.
"For Every Body is pleased to be the sole candle manufacturers for the Kardashian DASH candles and gel sprays," said Becky Anderson, founder of For Every Body. "Soon you will be able to purchase Kim, Khloe and Kourtney's favorite DASH candles at a quality retail store near you."
For more information about the DASH candles please contact Kim Power Stilson at kim.stilson@foreverybody.com or Jill Fritzo or Noelle Keshishian at http://www.pmkhbh.com.
About For Every Body
For Every Body, North America's largest minority-owned candle manufacturing company was founded in 1995, in Lindon, Utah, as a retailer of bath and body products by Becky Anderson and her daughters. In 2000, the company began producing soy-based candles with industry-unique specialty toppers as an addition to the bath and body line. The one-of-a kind candles are produced at the large Geneva Road facility in Utah and then sold to major retailers across the country. Additionally, the company offers home décor items and scrapbook supplies as a way to fulfill the company's mission to "offer something for every season, occasion and event." For Every Home, http://www.foreveryhome.net, is a sister-company and caters to home party business owners around the globe. For more information, please visit http://www.foreverybody.com or for media assistance please contact, Kim Power Stilson at 801-615-0035.
###