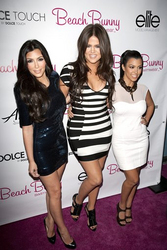 I love the combination of sexiness, style and class that Beach Bunny Swimwear gives. When I see a Beach Bunny suit, I see glamour!
Los Angeles, CA (PRWEB) May 13, 2010
Known for flaunting their famous curves and wearing the hottest swimsuit trends, it was only a matter of time before Kim Kardashian, Kourtney Kardashian and Khloé Kardashian Odom added swimsuit designer to their expanding list of successful endeavors. The Kardashian trio has teamed up with L.A. label Beach Bunny Swimwear to design sexy suits that flatter their individual body types and personalities. The 1st release of the label, "Kardashians for Beach Bunny Swimwear" is scheduled to launch on Beach Bunny Swimwear's website and branded stores May 10th and affiliated retail stores shortly thereafter.
Each sister created 2 styles for the upcoming Summer collection which includes an array of sexy, modern, and body-conscious cuts reflecting Beach Bunny Swimwear's brand aesthetic fused with the style of all three Kardashian sisters. "Beach Bunny Swimwear makes suits to fit curves with sexiness I've never seen before in swimwear" says middle sister Kim. Oldest sister Kourtney chimes in "Beach Bunny suits are always very whimsical, fashion forward, fun and edgy for the beach. It will be interesting to see what we can bring to the line. Youngest sister Khloé adds "I love the combination of sexiness, style and class that Beach Bunny Swimwear gives. When I see a Beach Bunny suit, I see glamour!"
The budding swimsuit designers were on hand for the recent grand opening of Beach Bunny Swimwear's flagship store in Los Angeles, where they showed off their latest accomplishment. Kim's bikinis feature gold hardware and tie-side bottoms because, she "loves dressing up when going to the beach and tie-sides fit my body type the best." Khloé, on the other hand, gave her designs an exotic touch, incorporating animal prints for a "sexy and fun" vibe, while new mom Kourtney opted for function and fashion as she designed an "amazing bikini that is super easy to wear, but has extra support on top–since I now have that issue."
"We are very excited about the design collaboration with Kim, Kourtney and Khloé and feel that each sister's individuality is reflected in their designs," says Beach Bunny Swimwear CEO and designer Angela Chittenden. "They have a strong sense of who they are and exude sexiness and confidence which is something Beach Bunny Swimwear as a brand strives to achieve."
A larger collection that features 5 styles per sister is set for several deliveries beginning November, 2010 and will be available on beachbunnyswimwear.com. "Kardashians for Beach Bunny Swimwear" is priced competitively with suits retailing under $175. The collection is perfect for the fashionable consumer and will make its runway debut in Miami this July during the IMG Swim Show.
About Beach Bunny Swimwear
Beach Bunny Swimwear is designed for the girl who just wants to have fun and look lusciously glamorous while she's at it. Brazenly embellished with exquisite hardware and trim, the label is sold in select fine retailers throughout the US and abroad. Beach Bunny Swimwear is designed by Angela Chittenden. Chittenden draws inspiration for her designs from upscale lingerie and her travels around the world.
Beach Bunny Swimwear has been recognized on the national media circuit with its continued presence in Sports Illustrated's Swimsuit Issue with suits featured on supermodels such as Heidi Klum, Petra Nemcova, Irina Shayk and Bar Rafeli. The line also has an extensive list of celebrity clientele that ranges from Amanda Bynes and Ashley Tisdale to Jennifer Lopez and Cheryl Tiegs.
Beach Bunny Swimwear's Los Angeles boutique is located at 136 S. Robertson Blvd, Los Angeles, CA 90048. In addition to this flagship location, Bunny Swimwear has boutiques in Newport Beach, CA and Scottsdale, AZ. The company is planning to open their doors internationally as well, slated to make their debut in Dubai late 2010.
For more information about Beach Bunny Swimwear, visit the website at http://www.beachbunnyswimwear.com, the company's Twitter page at http://twitter.com/BeachBunnySwim or call (310) 858-8588.
###