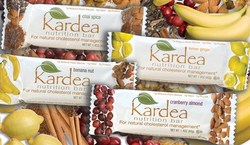 Natural cholesterol management offers each of us the opportunity to promote our own heart health and wellness
Hamden, CT (PRWEB) September 3, 2008
Kardea Nutrition announced today that it has secured sales and distribution agreements that will accelerate revenue growth of its innovative products for natural cholesterol management.
Kardea gourmet nutritional bars will be available to retailers across the United States through Select Nutrition. Select Nutrition is a subsidiary of United Natural Foods Inc. (UNFI), the nation's largest distributor natural and organic foods. Kardea bars deliver high levels of plant sterols and soluble fiber from oats and psyllium. Each of these ingredients has been clinically proven to lower cholesterol levels.
Kardea also announced that it secured agreements with leading independent sales organizations to present and promote the entire Kardea product line directly to retailers. Kardea also offers sterol-fortified olive oil and selected supplements that further enable natural cholesterol management. Kardea's entire product line also can be purchased directly by consumers from the Kardea online store.
"Natural cholesterol management offers each of us the opportunity to promote our own heart health and wellness," states Rob Leighton, founder of Kardea Nutrition. "For those with borderline high cholesterol, our integrated nutritional approach offers an alternative to prescription medications such as statins. For those who might require these medications, Kardea's integrated approach may offer an opportunity to minimize dosage levels."
The science underlying Kardea's products has been extensively reviewed by numerous organizations including the American Heart Association, the American College of Cardiology and the National Institutes of Health. "The science is strong, but consuming therapeutic levels of key nutrients each and every day can be difficult. I know. I work at it each day. With delicious fortified foods, Kardea better enables the appropriate daily intake," says Leighton.
Separately, Kardea announced that it will be showcasing its products at the Natural Foods Expo East in Boston on October 17-19, 2008 and the Natural Foods Expo West in Anaheim, California on March 6-8, 2009.
About Kardea Nutrition:
Kardea Nutrition is a start-up life science company that enables the therapeutic nutrition recommendations of the National Cholesterol Education Program of the National Institutes of Health.
Kardea celebrates living life well by creating and marketing delicious natural foods, quality supplements and educational materials that allow each of us to better manage cholesterol levels and improve our overall cardiovascular health. Please visit Kardea Nutrition for more information and our heart healthy gourmet cooking site Kardea Gourmet.
###