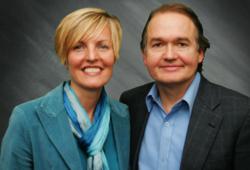 Put action into your dreams now to make them a reality!
Toronto, Ontario (PRWEB) December 08, 2011
The world's most successful author Dr John Gray, whose book Men Are From Mars Woman Are From Venus has sold more books than any other in the world (except only for the Bible), has sets his sights on Toronto by deciding to launch his Mars Venus Coaching, Workshops and Seminars through his coach, Karen Leckie of Toronto.
Be sure not to miss the workshop "How to Boost Profitability in your Business" which will be held Tuesday December 13, 2011, 7:00-9:30pm at the Bayview Golf & Country Club.
When Dr Gray, who is now one of the world's most sought after international celebrities and media identities, wrote his best-selling book, it transformed the lives of millions of people around the planet. Today the inspirational book Men Are From Mars, Woman Are From Venus has outsold every book in the world except the Bible. Other books and sold-out seminars have followed in addition to record breaking sales of videos, audio cassettes and training materials.
In fact to keep up with demand for the Mars Venus brand, its related products and its inspirational advice that it provides, Dr Gray in conjunction with his executive management team created Mars Venus Success Coaching. Qualified people, like Karen Leckie are selected and extensively trained by John to work with people to provide coaching that aims to improve the quality of life and the productivity of millions of people worldwide.
The Mars Venus brand has initiated great change in the way millions of people think and act toward each other, and the development of Mars Venus Coaching and its launch in Toronto will enable people in Toronto for the first time to be intimately, profoundly and positively transformed through coaching in the Mars Venus way.
Dr. John Gray and his Management Team have selected and personally trained and accredited Karen Leckie as a licensed Mars Venus Success Coach. "When I found out that Dr. John Gray was looking for Coaches to join his team here in Toronto, I was so excited. I believed in his philosophies and loved the fun, non confrontational way of enhancing relationships and assisting people to remove blocks that hold them back in life and move them forward into the life they could only dream of. I am privileged to be part of the Mars Venus Coaching Global Team and the Mars Venus Executive Training Team"
UPCOMING EVENTS
Event: How to Boost Profitability in your Business
Date & Time:     Tuesday December 13, 2011, 7:00-9:30pm
Location:           Bayview Golf & Country Club
Address:           25 Fairway Heights Drive, Thornhill, Ontario, L3T 3X1
To register:         416-855-2659
The purpose of this workshop is to attain key learning in :
*How to Work "On" Your Business, Not Just "In" Your Business

How to Increase Your Sales Revenue by 75%
How to Increase Your Profit by 101%
The 5 Things You Must Focus On Now
*How to balance your work and life to achieve the lifestyle you want

Systems, processes and tools to change your life
The 90 Day Plan for Alignment, Change & Transformation
For more information and to register, visit http://www.marsvenusnow.com
Space is limited and pre-registration is necessary.
In the meanwhile, if you would like to be part of a great 6 day free e-course called "Change Your Life Today, the Mars Venus Way!", visit http://www.MarsVenusNow.com and register for the free course. Every day for 6 days, you will receive a free email as part of the course. 
Dr. John Gray has been implementing these techniques for over 30 years in personally training and coaching hundreds upon thousands upon millions of individuals that have been touched by his books, seminars, workshops,
videos. His impact continues to be felt as his original book is about to be released in movie format by Summit Entertainment.
This is the time to get on board with Mars Venus principles and practices for life and business!
Check out "How to Boost Profitability in your Business", Tuesday December 13, 2011, 7:00-9:30pm at the Bayview Golf & Country Club.
For more information, go to
http://www.MarsVenusNow.com
Mars Venus Now
Markham Executive Offices
400-3601 Hwy 7 East
Markham, Ontario
Canada, L3R 0M3
(416)-855-2659