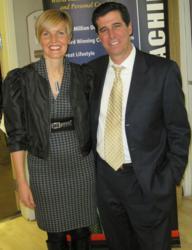 Whatever you can do or dream, begin it now.
Boldness has genius and power in it.
Toronto, Canada (PRWEB) December 16, 2011
According to Michael Gerber, "most business plans are written for others - to impress investors and acquire funding. A truly effective business plan you write for yourself, not to build a case for others to buy into, but rather to have a set of action steps, timelines and goals to hold yourself and others accountable."
Business Owners cannot afford to miss the workshop "How to Boost Profitability in your Business" where they will have the chance to write a mini-version of a business plan based on actions they need to take and hold themselves accountable to. It will be held Tuesday, January 31, 2012, 11:30am-1:30pm at the Markham Executive Offices. To register, call 416-855-2659.
At this workshop Business Owners will learn how to have a steady supply of qualified leads, learn the winning formula to kickstart their sales conversion and approach their target market in a language they understand.
More women are starting businesses than ever before. Entrepreneurship is so attractive to women because the traditional work model has never been a good fit for women raising families. Being able to custom-design a business that fits your lifestyle is the ultimate dream. In Canada, women hold 41% of the nation's wealth and that is about to tip to 70-80% in the next few years.
At Mars Venus Now, we recognize the differences in men and women in business, including how men and women are marketed to, sold to and how men and women manage time. The woman solopreneur is open for business as this report on Entrepreneurship and Gender from the Kauffman Foundation illustrates. This report actually shows that women who are single, divorced or widowed start more businesses than men in their respective categories of marital status! 
Overall, women who choose to become entrepreneurs are motivated primarily by five financial and psychological factors, specifically:
1. The desire to build wealth
2. The wish to capitalize on business ideas they had
3.The appeal of startup culture
4. A long-standing desire to own their own company
5. Working for someone else did not appeal to them
There are exciting things happening inside the world of women entrepreneurs. Women are succeeding in industries that were once taboo for women and are now the dominant force in small business ownership.
Whether you are writing a business plan, feasibility study, advertising and marketing campaign, or even still deciding on what kind of business to start, this workshop is for you. Register now by calling 416-855-2659. Space is limited and pre-registration is necessary.
To receive more information on Mars Venus principles and practices in your daily inbox, sign up for this 6 day free e-course called "Change Your Life Today, the Mars Venus Way!" at http://www.MarsVenusNow.com. Every day for 6 days, you will receive a free email as part of the course. 
Mars Venus has been around for over 30 years, created by Dr. John Gray, Ph.D., best-selling author of "Men are From Mars, Women are from Venus", with offices in 22 countries and over $50 million spent in creating the Mars Venus Brand. Our partial list of clients include: Allstate Insurance, American Airlines, Anthony Robbins, AT & T, Boeing Co, Coors Brewing Corp, Daimler-Chrysler, Ford Australia, Kmart, Lucent Technologies, McDonald's, Merck Pharmaceuticals, Nokia, Nightingale-Conant, Oprah-Winfrey (Harpo Inc.), Oracle, Princess Cruise Lines, Sheraton Towers International, Southwest Airlines, Toyota, Toys R Us, US Army, Swisse Vitamins and Walt Disney Corporation to name a few.
The impact of Dr. John Gray continues as his book will be released in movie format by Summit Entertainment.
There has never been a better time to incorporate Mars Venus principles into your life and business!
Register now for "How to Boost Profitability in your Business", Tuesday January 31, 2012, 11:30am-1:30pm at the Markham Executive Offices. To register, call 416-855-2659.
For more information, go to http://www.MarsVenusNow.com
Mars Venus Now
Markham Executive Offices
400-3601 Hwy 7 East
Markham, Ontario
Canada, L3R 0M3
(416)-855-2659