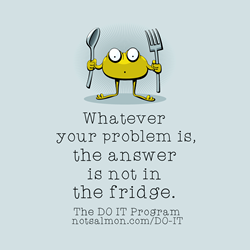 The more research I read, the more I realized I needed to go on a 'hate loss' plan as part of my 'weight loss' plan
New York, New York (PRWEB) August 16, 2016
Karen Salmansohn, best-selling author of more than 30 books with over 1 million copies sold (and 1.3 million fans on Facebook alone) knows a thing or two about emotional eating. While pregnant with her son Ari, Salmansohn gained over 80 pounds. After giving birth, she was able to shed 60 pounds within a short time, but those last 20 pounds proved next to impossible to lose. "I kept referring to that 20 pounds as my 'pregnancy weight," says Salmansohn, "but I knew it was really my 'I eat too much junky food' weight. And I gained the weight because I was doing emotional eating."
Salmansohn embarked on a year-long search to better understand the roots of emotional eating. As a stressed-out, hard-working mom, she didn't have to look too far for the triggers of overeating. But what she struggled to find, whether in print or online, were realistic, actionable solutions to stop the emotional impulse to overeat. One of the more interesting insights Salmansohn found: Often over-eating is a way people punish themselves– for anger and resentment they are feeling – either at themself – or someone else.
"The more research I read, the more I realized I needed to go on a 'hate loss' plan as part of my 'weight loss' plan," Salmansohn says. "I needed to re-learn how to eat like I loved myself – and re-focus on wanting to nourish and support myself more," explains Salmansohn. As soon as she developed healthier ways to deal with anger, regret, resentment, worry – Salmansohn released the pull she felt towards emotional eating and the 20 pounds came off in about three months – and has stayed off since.
For the last four years it's been instinctual for Karen Salmansohn to choose to eat healthfully - even in times of stress. She now uses fun and easy psychological tools – which are based in Neurocientific research – including NLP (Neuro-Linguistic Programming). Salmansohn not only lost the unwanted weight, she's lost the unwanted anger and anxiety she was feeling at the root of her emotional eating. She feels happier and calmer within… and the weight stayed off!
This is why Salmansohn developed The DO IT Program – a life-changing online home course – that anyone can complete at their own pace. She created this downloadable digital course because she's passionate about helping other emotional eaters. The DO IT Program was created to not only help people to lose weight, but to help people to gain self-love, gain calm, gain confidence – and gain lots of positive energy. The program is downloadable without any expiration date and there are no strict, unrealistic timelines to follow. It is designed so that a participant can pick up wherever they left off, and take as long as necessary, without pressure or judgment.
The DO IT Program offers a range of emotional and mental tricks to make sure willpower sticks!
The early feedback from the DO IT Program has been amazing. Hundreds of people have shed thousands of pounds and retrained their brain to more naturally crave healthier foods.
According to Salmansohn, here is some of what you can expect:

You will feed your body as if you love it – because you do!
You will naturally crave food that helps you to thrive at your energetic best.
You will not only drop dress sizes – you will drop stress sizes!
You will shift your mindset from "I REALLY should be dieting and working out" - to the mindset of automatically wanting to eat and exercise to be your healthiest, happiest self.
You will feel far more confident in all areas of your life.
You will find yourself filled with enthusiasm to seize the day - rather than merely seize that doughnut!
The DO IT Program is for anyone who...
mistakes food as the answer to a particular life problem.
finds sadness, stress, loneliness and boredom makes them want to order a pizza.
dislikes their body - and treat it like they dislike it.
feels insecure in a relationship or career due to food and body issues.
worries they will be overweight forever - and ever.
The DO IT Program is not a typical diet program – because it's not focused on hyping nutritional menu recommendations. Salmansohn believes we all know the "do's" and "do not's" of eating healthfully. She's even joked these are more like "duh's" and "duh-not's!" Her "DO IT Program" simply (and powerfully) keeps participants psyched to reach for the "duh's" to eat - and resist the "duh-not's"! The DO IT Program serves as a powerful catalyst to make sure anyone can stay on whatever healthy diet plan they choose!
About Karen Salmansohn
KAREN SALMANSOHN is the best-selling author of more than 30 books with over 1 million copies sold and founder of the popular inspirational site, NotSalmon.com. She has been a featured happiness expert on the Today show, The View, CNN, Fox News, Real Time with Bill Maher, and is an online columnist for Oprah, Psychology Today, AOL, and the Huffington Post. She and her work have been covered by the New York Times, Businessweek, Chicago Tribune, L.A. Times, Philadelphia Inquirer, Time, Marie Claire, Fast Company, InStyle, Self, Elle, and the New Yorker. Salmansohn has also worked as an image consultant for MTV, Nickelodeon, Oxygen Media, and L'Oreal and speaks on how to increase happiness, creativity, and productivity, most recently in the TEDx talk, "Fun Is a High Performance Fuel."