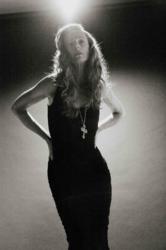 Karen Nielsen (aka "Rock Doc") releases her second album on February 12, 2013, entitled WOMAN.
New York, NY (PRWEB) February 12, 2013
Karen Nielsen releases WOMAN
"Dense, with a touch of post-punk and vocals which seem to come from the bottom of her soul." - RevistaTPM
Karen Nielsen (aka "Rock Doc") releases her second album in February 2013, entitled WOMAN. Nielsen's patients playfully gave her the nickname "Rock Doc," and as a doctor who runs her own medical practice, Karen's music is a creative outlet for her high pressure "day job." Nielsen has often received comparisons to Kate Bush, Florence Welch, and Patti Smith, though she states the most influential artists for her would also include Portishead, Nine Inch Nails, and Smashing Pumpkins. In Nielsen's words, "I don't write with an intention. I think the music organically emulates whatever state I am in at the time I am writing...I tend to write about those darker parts of our psyche that we keep from the world."
The title, WOMAN, is fitting as the whole of the album conveys a strong feminine perspective of those dark topics Nielsen references. Just as strong as the album name itself, each track name is a one word noun that Nielsen feels best describes the song. In true form to using music as a creative release, Nielsen describes her songwriting process: "Often I'll find or create a single beat and then just hit record for the vocals and something undetermined comes out and the song evolves from there. Sometimes I don't even remember what I've sung until I play it back. With 'RAIN' the whole song came out at once." As a result of this process, and consistent with the process of recording her first album, WOMAN was written and recorded entirely in Nielsen's living room in New York City.
WOMAN was engineered, mixed and mastered by Darren Morze, who, interestingly enough, was never in the same room as Nielsen during the mixing and mastering process - a system they developed throughout the first album that just seemed to work and they stuck with it. Nielsen wrote, arranged, and produced WOMAN in its entirety.
You can learn more about Karen Nielsen at http://www.karennielsen.net
If you have any questions, comments or would like to set up an interview please contact Melissa Zeigler: melissa(at)powderfingerpromo(dot)com.