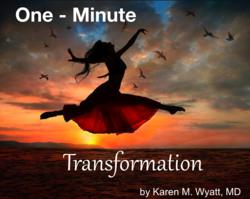 Spiritual growth can take a lifetime to accomplish but transformation occurs in an instant.
Silverthorne, CO. (PRWEB) January 09, 2012
Karen Wyatt MD, a physician and author who writes about spirituality and health, recognizes that in today's complicated and fast-paced world, most people have very little time to spend on the spiritual aspects of life, yet a more spiritual focus is precisely what is needed in these times of economic, environmental and societal despair. So Dr. Wyatt has created a series of inspirational videos, each less than two minutes long, to inspire and motivate the viewer toward a new perspective on life.
Titled "One-Minute Transformation," this series is based on the seven lessons included in Dr. Wyatt's soon-to-be-released book "What Really Matters: 7 Lessons for Living from the Stories of the Dying." Two videos from the series have been published so far, "Introduction" and "Chapter 1- Suffering," with six more to follow. Wyatt plans to release one new video each month and then all eight of them will be compiled into a "video book."
The videos themselves consist of beautiful photos, evocative music, and thought-provoking questions and statements. According to Wyatt, these elements have been carefully chosen and combined to quickly open the mind and heart of the viewer to a new way of looking at things. Given the short attention span of many internet users, Wyatt says she intentionally kept the videos short in length, but very meaningful in content.
Dr. Wyatt writes, "While genuine spiritual growth, which many of us are working diligently toward, can take a lifetime to accomplish, transformation actually occurs in an instant. There is a sudden moment of awareness as the clouds part and allow the light to shine through and change the way we see everything. This instant transformation is what is needed all across our planet to help us move forward and solve the life-threatening problems we face."
The videos are posted on YouTube and Dr. Wyatt's Creative Healing website for free viewing by everyone. Her goal is to spread the word that there is hope for the future and that our problems can only be solved if we first look within and allow ourselves to change. Hopefully the goal of transformation is worth just one minute of our time.
# # #