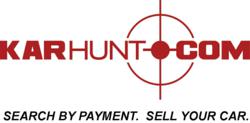 People want to use a car payment calculator to know how much car they can actually afford.
Salt Lake City, UT (PRWEB) May 01, 2012
Car shopping can be a real drag. How much car can a shopper get to fit a budgeted monthly payment? How can one avoid dealing with the hassle of listing a classified ad to sell one's car? Is one getting a good value on one's trade? Enter Karhunt.com, the easiest way to shop for a car by affordable payment, and the simplest way available to sell a car.
"Karhunt was born out of our 20-plus years' experience with the auto industry," says Josh Nichols, President of Karhunt. "We know that there are better cars on the market than ever, and better technology to find what you want, but narrowing down what a shopper can actually afford is a huge, scary endeavor for the average person."
"People want to use a car payment calculator to know how much car they can actually afford," states Jarrod Phillips, Executive VP of sales and marketing. "We want car-buyers to see just how many different options they have before they ever walk into a dealership."
The result is Karhunt.com, a brand-new way to shop for or sell a car. Users simply enter the payment they can afford and their zip code on the Karhunt homepage, click "search" and within seconds users are greeted with a list of every car in their area that falls within that payment range. New and used cars are listed side by side, and users can select and compare up to four individual vehicles right there on the site.
Karhunt gives users access to a wider range of options when selling a car as well. Any user with a car to sell can enter the vehicle information on Karhunt. Karhunt then gathers bids on that vehicle from subscriber dealers, compiles the bids, and then sends them to the user, making it easier than ever to get a fair price for their car.
"There are plenty of sites out there that simply list dealer inventory," Nichols says. "We not only list the inventory, but we actively assist users to find the best car for them at the best price."
Karhunt.com can be found on-line at http://www.karhunt.com, on Facebook at http://www.facebook.com/officialkarhunt and on Twitter @officialkarhunt, #searchbypayment, #sellyourcar.