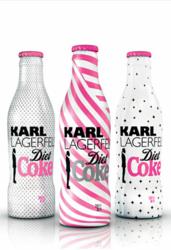 London, UK (PRWEB) May 25, 2011
The world-renowned designer has created not one but three new and exclusive designs for the iconic Diet Coke bottle.
Exclusively available at Harvey Nichols Food markets and on the online Food shop section of harveynichols.com from 16 May 2011, the Diet Coke Limited Edition Collection by Karl Lagerfeld is set to become the perfect accessory for style conscious women everywhere.
Using the light and playful elements of his identifiable trademark style, such as graphic cuts, a contrasting black and white palette and clean lines broken with colour or detailing – Karl Lagerfeld has created a bold, contemporary yet instantly recognisable collection.
Referring to his first design for Coca-Cola light in 2010, Karl Lagerfeld said, "I love this bottle but it's time for a new one. Actually I want to do three bottles." He also added, "I loved what we did last year but I will love 2011 even more. I'm delighted about this collaboration."
Introducing the Diet Coke Limited Edition Collection by Karl Lagerfeld
For this collection, Karl Lagerfeld has taken inspiration from the new Diet Coke heroines; Bernadette, Eleanor and Irene, the stylish puppets who appear in the brand's latest TV campaign launching across Europe.
Karl Lagerfeld perfectly encapsulates the Diet Coke 'lighter approach to fashion'. For this exclusive collection, he adds a playful and light dimension by capturing the humorous and fun personalities of each of the Diet Coke girls, through each of the bottles.
The first design, inspired by Bernadette, is both romantic and modern – a chic polka dot pattern in brushed metal grey contrasts with glossy white. The second bottle is true fashion, bringing Elenor's personality to life with a strong vibrant pink swirl encircling the bottle. The third design, in-line with Irene's rock chick personality, has a harder, more dramatic look featuring a bold stud pattern.
The three designs can be found on:
Karl Lagerfeld No 1 "Bernadette - Modern Dots" Diet Coke 250ml
Karl Lagerfeld No 2 "Eleanor - Pink Swirl" Diet Coke 250ml
Karl Lagerfeld No 3 "Irene - The Rock Chick" Diet Coke 250ml
The Ultimate Accessory
All three designs feature Karl Lagerfeld's famous and instantly recognisable silhouette – the designs are also numbered (1,2,3) which makes these beautiful bottles truly 'must have' collectibles. Harvey Nichols stocks exclusive items which vary from women's clothing and fashion and luxury menswear collections to beauty and skincare products and food exclusives.
The Diet Coke Limited Edition Collection by Karl Lagerfeld bottles will be available individually at Harvey Nichols priced at £1.95 each or as a set in an exclusive stylish prism-shaped Collector's Box created by the designer, which is priced at £9.95.
Editor's Notes
About Diet Coke: Diet Coke is the second biggest selling sparkling soft drink brand in the GB Grocery Multiples market behind regular Coca-Cola. Since its launch in 1984, it has remained a firm favourite with women the world over who love its lighter, great taste.
###