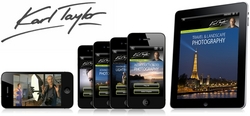 New York, NY (PRWEB) November 2, 2010
Guernsey, United Kingdom, Visual Exposure LTD, a leading producer of high-end photography training tutorials, announces the release of 5 photography training Apps ready to go for the iPad, iPhone and iPod Touch. Whether a budding novice just starting out with your new Digital SLR or a seasoned professional looking to expand your business, Karl's Masterclass and Pro Masterclass series will introduce the skills needed for full creative control. Photography Training subjects include basic to advanced digital SLR training, travel & landscape photography, fashion & beauty lighting and professional retouching.
Based on the highly successful Karl Taylor Masterclass DVDs, photography enthusiasts and professionals now have "ready-to-go" instruction for every aspect of professional photography. From mise en scene to photo retouching, each application is packed with the secret techniques and knowledge needed to produce sophisticated professional images.
Easy to use, high production quality video guides developed by Smartphone training specialists, Netframes, the Karl Taylor application titles include:
Photography Masterclass

Introduction to Digital Photography
Travel & Landscape Photography
Advanced Digital SLR Photography
Pro Masterclass
Fashion and Beauty Lighting Secrets
Professional Retouching Secrets
Application Features
iPad, iPhone and iPod compatible
On the go video. No Wifi required after initial install for playback in the field.
Subject Search
Photo Notepad
###