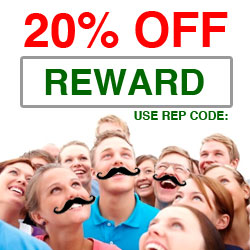 unbelievable savings when shopping your favorite urban clothing store. 20% OFF your entire order.
Boston, MA (PRWEB) November 08, 2012
The REWARD rep code for the first time ever just released worldwide at http://www.karma-promo-codes.com and can be used for Karmaloop, Miss KL, and PLNDR purchases, and paired with a Karmaloop promo code to get additional savings and perks at checkout. There's no minimum and no restrictions for this non-expiring rep code.
At Karmaloop, customers who spend at least $125 can use the REWARD rep code with the ALLOVER or VOTE promo code to take $20 plus 1% off their bill and have the items shipped for free.
At Miss KL, ladies who spend at least $125 can use the REWARD rep code with the PRINTZ promo code to enjoy a $20 savings plus another 1% off their bill plus free shipping. Orders over $100 also get a 16% discount and are shipped free of charge through the REWARD rep code and BALLOT promo code.
PLNDR customers get to enjoy the biggest savings from the REWARD rep code. All orders get 10% off just by using the REWARD rep code by itself. Combine the REWARD rep code with the GOBAMA promo code to boost savings to 21% regardless of order amount, or 31% on purchases over $100. All orders are also entitled to the Buy 1 Get 1 Free + 1% Off promo when checking out with the REWARD rep code and PREZBOGO promo code. Any dress bought at PLNDR with the REWARD rep code and DTPRESS promo code get an extra 21% off.
The REWARD rep code from karma-promo-codes.com also offers brand-specific discounts. To get great discounts on Sabre, Tokidoki, ETK, Melie Bianco, J Shoe, Incognito, CXXVI New York, Alternative Apparel, Osiris, Han Cholo, Makia, and Smphny Clothing items, visit http://www.karma-promo-codes.com/plndr-promo-codes-and-rep-code
About Karmaloop.com
Founded by Greg Selkoe in 2000 and headquartered in Boston, with an office and TV studio in New York City, and offices in Los Angeles and Copenhagen, Karmaloop.com is one of the largest and most-respected streetwear retailers on the Internet. The company is anchored by its multi-platform retail website and lifestyle network, which attracts more than 4.5 million unique monthly visitors and includes both retail shopping and original video and blog content. Karmaloop.com sells over 500 men's and women's brands to its loyal "Verge Culture" customer base spanning 80 countries. Karmaloop Inc. owns and operates Karmaloop.com, KarmaloopTV.com, PLNDR.com, Kazbah.com, BoylstonTradingCo.com, Brick Harbor, Karmaloop EU, and MissKL.com, and owns several private label clothing brands such as Advocate, Fenced, Flüd, KLP, Pilot Licensing, Society Original Products, and Spool & Thread.
About MissKL.com
MissKL.com is the ladies-only sister site of Karmaloop.com, global streetwear giant and leading voice on media, fashion, and culture for the internet generation. The women behind Karmaloop are now bringing their industry prowess, know-how, and loyal following to this exciting new endeavor. MissKL.com is more than just a retailer -- it's a destination for like-minded ladies who give meaning and vitality to the Miss KL philosophy. A product mix of playful to sophisticated and street to chic is offered alongside editorial content including shoppable lookbooks, curated boutiques, interviews, and killer content. From inspired lookbooks to inspiring ladies, kickass girls the world over can discover, covet, and acquire unique fashion and culture on this fresh platform.
About PLNDR.com
Owned by Karmaloop, PLNDR.com (pronounced "plunder") is a members-only flash sale online boutique that hosts limited-time sales of more than 80 percent off on the best brands in premium apparel, footwear and accessories. PLNDR debuted in May 2010 and is the fastest-growing segment in the Karmaloop family with 2.5 million visitors per month. To date, PLNDR has established ongoing partnerships with more than 400 brands including top-sellers such as Crooks & Castles, Obey, WeSC, Motel Rocks and Married To The Mob, boasting a current membership of more than 1 million with over $16 million in revenue for 2011.