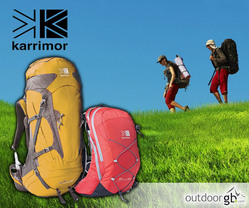 (PRWEB) March 15, 2011
Karrimor's new range of rucksacks for 2011 continues their drive for innovation, versatility and contemporary dynamism. Their core range of backpacking rucksacks demonstrates these qualities with the introduction of the new Caracal and Lynx models.
Both the Caracal and the Lynx are versatile, smaller capacity backpacks but they are each still packed with all the impressive features of the Karrimor's larger packs.
The smart and unfussy Karrimor Caracal 45-55 L Backpack is versatile, resilient and extremely comfortable for easy carrying.
Ideal for weekends in the hills and mountains, this medium weight 1860-gram pack features the Karrimor SA (size adjustable) back system alongside a volume front and lid pockets, rain cover, base compartment and lid bungee system for extra space to carry items on the outside of the pack.
The Caracal is constructed from N420 Dot Matt material to be light yet durable.
Sharing all the features of the Caracal 45-55, the slightly smaller Karrimor Lynx 40-50 Ladies' Backpack and its standard counterpart are high-performance backpacks that can also be used on everything from day trips to longer overnight or weekend stays for easy and comfortable trekking.
An excellent value pack, the Lynx 40-50 is constructed from 300D Mini Ripstop fabric for maximum wear resistance and value for money.
As well as Backpacking, the extensive scope of Karrimor's specialized rucksacks embraces their Alpine, Lightweight, Airspace, Day Trekking, Urban and Travel ranges.
Airspace is the exactly appropriate name for Karrimor's group of day packs and day trekking packs such as the Karrimor Airspace 28 L Backpack.
These day packs boast a back system which allows only minimal contact between the mesh panels and the wearer's back so that vertical and horizontal airflow keeps the back cool and minimizes sweating.
Like almost all Karrimor backpacks, the Airspace range are also hydration system compatible for even further comfort while striding out.
Karrimor's Travel range covers a variety of styles from the high-volume Global 70-90 L Backpack to the Global Hub 65 + 15 L in standard and female versions featuring front daypack attachment wings down to the Global Equator 40 L Wheeled Backpack that gives the ultimate in versatility for carrying in the great outdoors as well as for hassle-free negotiation of air and train transfers.
###