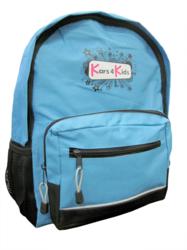 We feel it is our responsibility to alleviate that burden while supplying the children with new, stylish supplies that they will be proud to bring to school
Lakewood, NJ (PRWEB) August 06, 2012
Just in time for the back-to-school rush, Kars4Kids, a national car donation charity, has announced the launch of a brand-new program. The Kars4Kids Backpack Giveaway aims to provide needy children and students with the supplies they need to succeed in school.
As the US economy falters, surges and falters again, Kars4Kids is doing its part to help struggling families who dread the crushing expenses that come along with the joy and anticipation of the back-to-school season.
The Kars4Kids Backpack Giveaway encourages children ages 7-17 to write a short essay answering one of three questions. All qualified entrants will receive a fashionable and sturdy Kars4Kids backpack for free!
Kars4Kids is a car donation charity whose core mission is addressing children's educational and social needs. As a Kars4Kids spokesman explains, the Backpack Giveaway initiative fits right into Kars4Kids' educational mission: "While our primary focus in childhood education is on tutoring, tuition and afterschool mentoring, the Backpack Giveaway program is something that we know will be a huge help this school year. We'd like to equip children with everything necessary for them to be successful students."
This Backpack Giveaway comes on the heels of other programs designed to help families who are struggling to make ends meet. The Kars4Kids Coat Giveaway with Newark Mayor Cory Booker in December 2011 was followed closely by a similar giveaway in East Orange, New Jersey. These social programs reflect an adjustment to the overwhelming needs of the moment, "When we see families wondering how they will be able to afford basic supplies for the new school year, we feel it is our responsibility to alleviate that burden while supplying the children with new, stylish supplies that they will be proud to bring to school."
Parents are encouraged to submit their children's essays on the Kars4Kids Backpack Giveaway page to receive a beautiful Kars4Kids backpack free of charge.