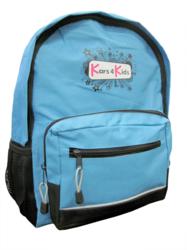 It's a privilege to be able to do our small part, along with our wonderful partners, to help these families and their children
Lakewood, NJ (PRWEB) August 23, 2012
On the heels of their successful coat giveaways in Newark and East Orange, New Jersey, the Kars4Kids Car Donation Program has announced the first locations for its new Back To School Backpack Giveaway program. While free backpacks are available online to the public on the Kars4Kids backpack page, the live events will allow parents to receive the handy school accessory in person and on the spot. Five locations have been announced with the possibility of more being added in the future.
Kars4Kids is teaming up with local politicians and community organizers in many areas to pick the perfect locations that will target the segments of the population that need this help the most. "There are so many hard-working families out there that just can't make ends meet in this economy," a Kars4Kids spokeswoman said Tuesday. "It's a privilege to be able to do our small part, along with our wonderful partners, to help these families and their children."
Among the local representatives partnering with Kars4Kids in this initiative are New York Congressman Ed Towns, Councilwoman Melissa Mark-Viverito, Councilman Ruben Wills, Councilman James Vacca and NYCHA Chairman John Rhea, as well as other community members, who are all dedicated to improving the education of New York's children.
Over the course of three days, Kars4Kids is expecting to distribute over 3,000 backpacks, with distribution in five different locations, and is anticipating and preparing for a large turnout. Kars4Kids will be working closely with local officials to ensure that the giveaways take place in an orderly manner with everyone having a chance to receive one of the high-quality, stylish backpacks.
The five locations that have been chosen for the giveaways are spread throughout New York's five boroughs. Times and details for each location are as follows.
Manhattan: Tuesday August 28th at 104th Street between Lexington and 3rd Avenues 1 - 4 pm with Councilwoman Melissa Mark-Viverito at her annual "Step up, Speak out, Take Action" Teen Fair.
Brooklyn: Wednesday August 29th with Congressman Ed Towns
Location 1) Kingboro Housing Development 10 am - 12 pm 354 Kingsboro 3rd Walk
Location 2) Marcy Avenue Houses 1 - 3 pm Myrtle Avenue between Marcy and Nostrand Avenues
Queens: Thursday August 30th with Councilman Ruben Wills and NYSCHA Chairman John Rhea 12 pm - 1 pm Baisley Park Houses 1645 Guy R Brewer Boulevard Jamaica, NY 11434
Bronx: Thursday August 30th with Council Member James Vacca. 3:30 pm - 5:30 pm Sue Ginsburg Center 975 Waring Avenue
Further information about each event will be released separately. There will be a designated area for members of the media at each location.
The backpack program is just one of the many educational initiatives Kars4Kids employs throughout the year to help children reach their educational potential.
Follow Kars4Kids on Facebook to stay up to date on Kars4Kids activities throughout the year.