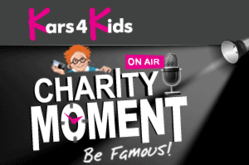 Kars4kids believes in the power of every good action... we hope that the charity moment campaign will help us promote acts of kindness throughout the country
Lakewood, NJ (PRWEB) April 18, 2012
Kars4kids car donation program is opening up their famous radio spot to the public, offering them the opportunity to have their own charity moment featured on CBS stations around the country.
In an innovative contest that draws on the dual power of radio and social media to help make the world a better place, Kars4Kids invites one and all to submit their personal good deed or "charity moment" on Kars4Kids' Facebook page. Each week, a winner's charity moment will be played on 15 CBS radio stations nationwide for an entire week.
"Kars4kids believes in the power of every good action," said Andrew Moesel, a Kars4kids spokesman. "We hope that the charity moment campaign will help us promote acts of kindness throughout the country."
Radio listeners everywhere are undoubtedly familiar with car donation charity Kars4Kids' popular jingle. Lately, CBS listeners nationwide have been treated to a weekly "charity moment," sponsored by Kars4Kids. These moments will be replaced by the winners of this contest. The new ads will begin airing shortly after the launch of the contest.
It's easy to join: contestants simply write up a charitable act they did and submit their entry at charitymoment.com. Entrants can then share their story to friends through social media like Twitter and Facebook to garner more votes. On the contest page, visitors will be able to view all entries and vote for the ones they like. Each week, Kars4Kids will judge the top five entries with the most votes and choose one winner. The remaining entries will remain on the site but the voting tally will be cleared each week.
Other recent charitable initiatives Kars4Kids include activities such as this Kars4Kids coat giveaway in Newark.
Kars4Kids is a 501c3 charity operating nationwide. For more information or to join the contest visit http://www.charitymoment.com