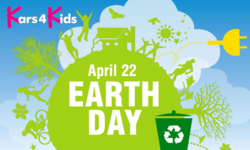 By taking action on behalf of our environment, we show our leaders that preserving and protecting our resources is an important priority. This spurs our representatives to enact greener legislation
Lakewood, NJ (PRWEB) April 18, 2013
Ahead of the 43rd Earth Day, Kars4kids, a national car donation charity, released a timeline of significant dates in Earth Day's history in an embeddable infographic. First celebrated in 1970, Earth Day, according to the Earth Day Network (EDN), is now a global observance with more than 1 billion participants. Born out of the spirit of the 1960's anti-war movement, Earth Day was founded by Wisconsin senator Gaylord Nelson, who made use of that energy to raise awareness of the need for a greener ethos and consciousness.
"At Kars4kids, we know that today's students are tomorrow's citizens," said Robert Moskovits, Vice President and Director of Business Development at Kars4Kids. "That's why we invest so much in building our kids, both in mind and spirit, to give them the foundation they need to develop into productive members of their communities. What could be more important than teaching about our environment and the power of the common man in making a difference to the world at large? By taking action on behalf of our environment, we show our leaders that preserving and protecting our resources is an important priority. This spurs our representatives to enact greener legislation."
The timeline includes a compressive history and important dates including:

1970: The first Earth Day is attended by 20 million people in cities all over the United States.
1970: President Richard M. Nixon establishes the United Stated Environmental Protection Agency (EPA).
1972: The Clean Water Act is passed. This act sets limits on the discharge of pollutants into U.S. waterways.
1973: The Endangered Species Act is passed. This act serves to protect the animals and the ecosystems in which they live.
1995: President William Jefferson Clinton bestows the Presidential Medal of Freedom Award on Gaylord Nelson in recognition of his work on behalf of the environment. The award is the highest honor that can be accorded U.S. civilians.
2013: The theme of the 43rd annual Earth Day celebration is The Face of Climate Change.
In addition to learning the important dates that creates Earth Day, kars4kids compiled a list of activities for the 2013 Earth Day:
Attend local Earth Day events. Sign up for EDN updates to find out about events taking place near you.
Collect ladybugs and place them gently on your prized rose bush. Ladybugs love to eat aphids and can help keep your roses disease-free without harmful chemicals or harm to the ecosystem.
Bone up on the facts of recycling. A great place to start: Kars4Kids' handy infographic on car recycling. We all know about recycling household items, but the impressive facts on car recycling may surprise and even spur you to action. Why is that old car still sitting around, unused in your garage?
Stop wasting those potato peels and other vegetable matter that could enrich your soil. Spend part of Earth Day building your own compost bin.
Have an old t-shirt or pillowcase you hate to throw away? Turn it into a reusable shopping bag. Here's how.
It's April! What a perfect time to start your own vegetable garden. Live in a high rise? Grow a windowsill herb garden or how about a vertical hanging shoe bag garden?
Hold a neighborhood swap. Invite all your friends to bring used items they no longer need, from books, to clothes, to gardening tools and have people swap items. Put out some light refreshments to keep things lively and fun.
Organize a carpool. Instead of you and your neighbor both traveling to the same part of town for your jobs, pile into just the one car. Save gas, money, and the environment. What could be bad? School carpooling also gives parents a bit of a break from driving at least some of the time.
Guilty of leaving your computer on 24/7? Join a distributed computing network for modeling the effects of climate change. Distributed computer networks harness the power of idle personal computers to carry out complex computer tasks. Check out climateprediction.net a distributed computer network sponsored by Oxford University and assorted colleagues with the aim of helping scientists run climate models while network computers are running idle.
Take a hike. Enjoy the beauty of natural settings in your area. Above all, Earth Day is a time to take stock and appreciate the bounty of nature.
For the latest information about this program and other car donation opportunities, please visit the Kars4Kids car donation program or follow Kars4Kids on Twitter @Kars4Kids.
About Kars4kids:
Kars for Kids is a non-profit organization that works to give back to the community through a variety of education, youth development, family outreach, and faith-based programs. They provide an array of services to children and families including educational programming, school placement, tuition assistance, mentorship programs, cultural activities, religious instruction, recreation and guidance counseling.