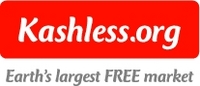 Our new Kashless private label service is available for free to any business or organization interested in bringing people together in a private community online to share free goods and services on a safe, easy-to-use site
Seattle, WA (PRWEB) October 2, 2009
According to the latest government data1, it can cost more than $25,000 to raise a child in just the first two years of life. A new partnership between Kashless.org, the world's largest free online marketplace and community, and BabySpot.com, a social network and informational site for parents of newborns and their families, helps parents keep their cash and protect the planet while sharing baby's first years with family and friends in a safe, secure Web community.
"Our new Kashless private label service is available for free to any business or organization interested in bringing people together in a private community online to share free goods and services on a safe, easy-to-use site," said Martin Tobias, CEO/Founder of Kashless.org, and a veteran entrepreneur and venture capitalist. "We're thrilled to partner with BabySpot.com to provide parents with newborns such a valuable resource and support system."
Kashless.org is the world's largest online marketplace and community where people can find things they need and get rid of things they don't. The company calls is ReCommerce, and the best part is - everything on Kashless.org is FREE. Whether you're looking for furniture, bedding, clothing, office supplies, construction materials, or even electronics, Kashless.org is the only place you need to go to find or dispose of just about anything online. You can also share your posts across Facebook, Twitter, Craigslist, Freecycle, and e-mail. Kashless.org is now available in more than 100 metro areas across the U.S.
''When it comes to welcoming a new baby home, every dollar counts, and it's hard to find a better deal than free,'' said James Rivera, CEO of BabySpot, Inc. ''We're excited to partner with Kashless to offer our members a unique new way to lower their costs and help preserve the planet for their baby and future generations.''
BabySpot.com is a free, safe, and secure social network that specifically addresses the needs and wants of parents with newborns, and allows them to share life's special moments and firsts with family, friends and other parents in their social circle. Parents can post news, pictures and videos of their children and family moments, as well as connecting with other parents to share advice, information and experiences. The safety and security of each member of the BabySpot family, and your family, is BabySpot's top priority, and both of the site's founders are also parents who participate in the BabySpot community. All information posted to BabySpot can remain private or be shared with select friends at the parent's sole discretion.
About Kashless, Inc.
Kashless.org is the free, online way to recycling products and services between people. Headquartered in Seattle, Washington, Kashless.org was founded by Martin Tobias in 2008, with funding from RRE Ventures, NYC.
About BabySpot, Inc.
Founded in 2008 by James Rivera and Zameer Upadhya, BabySpot, Inc. provides social networking and
informational sites for parents and their families in a free, safe and secure environment where they can connect and interact virtually to share baby's precious moments as they grow.
For more information or to schedule press/partner meetings, please contact:
•Nate Murphy, Kitsap Public Relations, (206) 618-2790, nate(at)kitsap-pr(dot)com
1U.S. Department of Agriculture, Expenditures on Children by Families, 2008
# # #