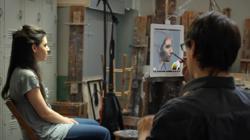 New York, NY (PRWEB) September 27, 2011
Stonehenge Partners, a premier New York City luxury apartment building owner and management company, is pleased to continue its series of cultural events for the public at the Firefighters' Memorial Park adjacent to Stonehenge's Ritz Plaza luxury rental building located at 235 West 48th Street in Times Square. This fall Stonehenge has partnered with artist David Jon Kassan to create an experience that will bring technology and art together.
Scheduled on the heels of the highly anticipated Mobile Art Conference, hosted by NYU's prestigious ITP Department, this iPad art event celebrates the growing collaboration between technology and high art and the natural curiosity that stems from this exceptional combination.
"We first met David Kassan during a Sketch in the Park event this past summer by way of The Art Students League. When we witnessed what he could create on an iPad, we knew he was a major talent. Stonehenge Partners consistently celebrates the individuals that make this city iconic. We knew that we had a responsibility to our residents and the community to inspire them with David's work," says Michael Stern, Creative Director at Stonehenge Partners.
David Jon Kassan Live at The Ritz Plaza will be held on Monday, October 3rd from 5:30PM to 8:00PM. The iPad art event will be streamed live on the Stonehenge Facebook page.
This Brooklyn-based artist is most notably known for his widespread popularity on YouTube. His first video, Finger Painting on the Apple iPad, received over 1.3 million hits. But his passion for art is explored in more traditional mediums as well.
During the event, guests will be able to witness David Kassan drawing a live model on his IPad while discussing his work with the audience. He will perform four iPad art demonstrations in total, which will be projected on large screens throughout the park.
In addition, David will be accompanied by singer-songwriter Jasmine Commerce, who will play her guitar for the crowds in between demo sessions.
For this event, Stonehenge has partnered with Artsicle, the top source to discover and rent original artwork. Artsicle will be featuring available pieces at the event and offering special deals for all participants. The event will include refreshments, entertainment, and a cultural experience on a brisk fall evening.
Registration for this event is available online at http://www.kassanlive.eventbrite.com.
About Stonehenge Partners:
Founded in the early 1990's, Stonehenge Partners is a fully integrated New York City-based real estate company. While the firm's primary investments are in Manhattan multifamily real estate, Stonehenge also has an expertise in commercial property. Stonehenge, together with its partners, currently owns and manages a real estate portfolio valued at nearly $1.6 billion. The portfolio is comprised of approximately 2,700 residential units and 700,000 square feet of commercial, retail and garage space. For more information about Stonehenge Partners please visit http://www.stonehengenyc.com.
###