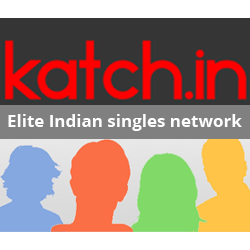 Katch.in uses a membership application to determine whether new users fit into its community.
New York, NY (PRWEB) August 30, 2012
Finding true love online can be very difficult- a fact well-known to single professionals who have suffered through the process. Apart from hosting fake and inactive profiles, the numerous free Indian dating and matrimony sites allow anyone to sign on. There isn't any exclusive service that accomplished, eligible singles can use to conduct their search.
The founders behind today's launch of Katch.in- which uses a membership application to determine whether new users fit into its community- aim to change this. They explain how they thought up the idea while at MIT: "When you want to attend college- or get a job- you must first submit an application, as universities and companies don't just accept anybody. How come dating and matrimony sites don't work the same way? Ultimately who we date or marry impacts our lives much more than a degree or job. Therefore, shouldn't a site's users be pre-screened?"
The selection process is simple- new members create a profile, and must wait for it to be approved before they can search for or contact others. If the vetting team has any doubts or queries, they contact the new member by telephone. The site's members are well-educated, multicultural and progressive, and have achieved or are headed towards success in their respective professional fields. Referrals from existing members- who find the community a breath of fresh air compared to the fraudsters and spammers they find elsewhere- have been the biggest source of new users.
Apart from screening new members, Katch.in aims to differentiate itself using a sophisticated matching system. Members answer questions like "were you brought up in India or abroad?" and "would you describe yourself as traditional or modern?". High-tech algorithms analyze these answers and then match members to like-minded others. Members only answer questions they consider to be important, and can even submit their own questions into the system. This ensures the algorithm- which was designed based on extensive research into Indian cultural preferences- uniquely addresses the needs of each member.
Instead of writing essays or filling out archaic biodatas- as is common on Indian matrimony and dating sites- members build their profiles by selecting tags such as "likes cricket", "is adventurous", "is Punjabi", "works at Google", "went to Stanford" etc. This makes Katch.in easy and fun to use and reveals far more about each member's personality, background and cultural upbringing.
Katch.in is extremely privacy-conscious. Profiles can only be viewed by approved members, and if a member chooses to sign up using Facebook their profile is hidden from friends and acquaintances who may also have signed on.