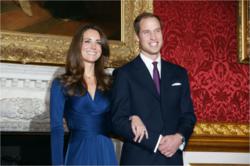 "Even business owners who aren't particularly interested in a story should follow these trends. If you are tracking the trends you may be ready to take advantage potential opportunities when they arise." Ryan Paul Adams
Portland, Maine (PRWEB) December 20, 2012
The recently announced Kate Middleton pregnancy has once again displayed the power of social media. On Monday, December 3rd, the Duke and Duchess of Cambridge confirmed the news via online press release.
This news initiated a social media firestorm that only figures to intensify over the course of the Royal's pregnancy, and is essentially history repeating itself for the Royals: "The whole world is watching my stomach," Lady Diana Spencer said during her own difficult pregnancy with William. However, that was a world before Facebook, Twitter or the 24-hour news cycle.
The Kate Middleton Pregnancy and the Power of Social Media Marketing on Complimentary Products and Services
This type of high profile news should catch the attention of business owners because trends typically raise interest in and demand for complimentary topics and items. For example, Middleton's current ailment, Hyperemesis gravidarum (extreme morning sickness) is likely to become one of the most Googled terms of the year as a result of the hype that the royals attract.
As an additional example, Google gave CNN Money a list of some top-rising terms that it deemed related to the Royal Wedding in 2011. Here's a sample:

Sapphire Engagement Rings- Google searches for "sapphire engagement rings" were up 50% after William proposed to Kate with his mother Princess Diana's famous blue sapphire engagement ring.
Fruitcake- A traditional treat offered at British weddings, fruitcake searches were up 25% leading up to the wedding.
Wedding Tiara- Searches were up 70% leading into the wedding.
Carriages- Searches were up 70% leading into the wedding.
Flights to London & London travel- Searches were up 10% since an unstated time.
Royal Honeymoon- Searches were up 50% in the two weeks leading up to the wedding.
These examples display that a trending topic can fuel interest potentially foreseeable items. "Even business owners who aren't particularly interested in a story should follow these trends," advises PME 360 CEO Ryan Paul Adams. "If you are tracking the trends you may be ready to take advantage potential opportunities when they arise.
Social Media Data Becoming More Manageable
In order to unlock the power of social media trends like the Kate Middleton pregnancy, companies will need to be able to analyze these trends and develop a strategy to quickly take advantage of the occasion.
However, according to the Hootsuite blog, "The problem is we haven't quite figured out how to harness all this information yet and turn it into actionable policy."
This is changing though, as robust new software and analytical tools emerge to meet the demand for analysis. In fact, McKinsey published a report recently that asserted that social technologies stand to unlock $1.3 trillion in business value in the coming years.
According to Texas A&M computer scientist James Caverlee, our ability to analyze social media trends is still emerging: "We don't have history for these people, or accounts, so we have to make assessments in near real time and build models quickly so that we can speed and improve decision making."
For businesses that are looking to pursue an online marketing campaign with emphasis on social media, the working to develop a strategy is now more important than ever.
About PME 360
PME 360 powers growth online for local small-medium sized businesses, offering local Internet marketing services, solutions, and consulting. PME 360 is here to help businesses make sense of the complex local internet marketing landscape and help them achieve real growth.