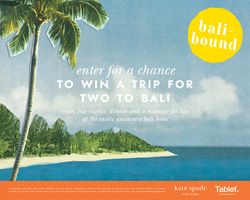 "To me, summer means suntans and strappy heels—exotic excursions and twists of lime." Creative Director and Co-President, Deborah Lloyd
New York, NY (PRWEB) May 21, 2010
This year, the kate spade new york summer collection comes to life in vibrant colors with clever details—crossing all categories, including apparel, handbags, jewelry and shoes.
"To me, summer means suntans and strappy heels—exotic excursions and twists of lime," says Creative Director and Co-President Deborah Lloyd.
In keeping with the romantic allure of Lloyd's idyllic summer, the team at kate spade new york channeled the tropics to create their latest campaign. To bring the season to life, they crafted a series of summer adventures that are slated to unfold through four short films over the course of the season. Catch each short as it's released at katespade.com.
Pop by a kate spade shop to experience the adventure firsthand. Colorful window displays currently feature a leafy jungle, with plans to unveil a garden of golden oleander for June (inspired by the oleander jacquard collection, arriving in shops next month).
In their signature style, the team at kate spade new york partnered with Tablet Hotels to create the ultimate summer sweepstakes in Bali. One lucky winner (and a friend) will vacation in paradise on a trip for two to the luxurious Anantara Bali hotel. The pair will spend five nights in a seaside suite overlooking the Indian Ocean. In addition to soaking up the sand and sun, the winner and their guest will each receive a 60-minute massage as well as dinner reservations at the hotel's imaginative Wild Orchid restaurant.
As the icing on the cake, kate spade new york topped off the sweepstakes with an ongoing trivia game. contestants can play daily for the chance to win the hot pink London Small Coal featured in the summer ad campaign. Crafted in Italian leather, it will be awarded to the player with the highest score at the end of the game.
Contestants are invited to enter now through June 21st at http://www.katespadebalibound.com.
# # #