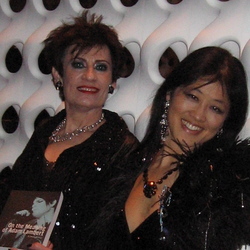 What is it about Adam Lambert?
(Vocus) May 27, 2010
ATTENTION: Of special interest to media covering these concerts:
6/2/10 The Fillmore Charlotte at uptown's N.C. Music Factory
6/4/10 Wilkes-Barre, PA, F.M. Kirby Center for the Performing Arts
6/5/10 Sayreville, NJ, Starland Ballroom
6/6/10 KFest, Dutchess Stadium, Wappinger Falls NY
6/8/10 Toledo, OH Omni
6/10/10 Harrah's Ballroom Stir Cove, Council Bluffs IA
6/11/10 Shooting Star Casino, Mahnomen, MN
6/12/10 Prior Lake, MN, Mystic Lake Casino Hotel
Writer Stevie Wilson posted on L.A.Story.com:
"I have to say that realizing just how whip-smart, sassy, and even at times provocative in their ideas and conjectures -- I thought I might be intimidated -- but they are very real women, with families, real lives, careers and humor about others and most willing to poke fun at themselves. Impressed doesn't begin to tell you what I think of them."
Adam Lambert is the 28-year-old singer who captivated millions of viewers of American Idol in 2009 and whose current singles, "Whataya Want From Me" and "If I Had You", are climbing the charts domestically and now internationally. Playing venues across the U.S. this summer with his Glam Nation Tour, Lambert has been lauded by rock legends such as Slash, Brian May and Meatloaf as the standout artist of his generation. He has attracted a fervent following of all ages and nationalities. Among them are Juneau Underwood and Katherine Hollinsworth, two Baby Boomers who connected on a website about Lambert last summer and ended up re-inventing their lives.
It all started with an essay "What is it about Adam Lambert?" that author Allegra Huston posted on a website geared to professional women. Her piece triggered an outpouring of thousands of comments by readers that continues to this day. Two of the most prolific commentators were Underwood and Hollinsworth, writing under "Juneau and Xena", who launched the incredible journey that culminated in the publication of their posts - writings that cover a wide array of topics and personal transformations - in a book, On the Meaning of Adam Lambert.
"He inhabits songs across eras and genres and makes them fresh," say the women. "He's courageous, taking on iconic songs and resisting being put in a box musically with his very eclectic CD For Your Entertainment. He expresses his masculine and feminine side, he is gay and glittery - yet women find him irresistible. He's exotic but also the boy next door, disarmingly sweet and open. He admits he's 'a bit ridiculous' and invites everyone, of all races, sexual orientation, nationality and age to 'party together' – and that's a powerful message of liberation and unity in a world that too often divides people up."
The book offers penetrating insight into Lambert's powerful hold over his fans. Writes one enthralled reader, "I could not explained what I felt until I found this amazing book: "On the Meaning of Adam Lambert". I realize that I was not alone!!! There are millions of Glamberts who felt the same way. Adam brought us a new brightness in life, helps us with our fears, says it's normal and no matter what, to be ourselves. This book can express exactly what I'm talking about. You have to read it!"
The women have launched a blog, On the Meaning of Adam Lambert . Distinctive from most other fan sites, the blog analyzes Lambert's performances and cultural impact in entertaining editorials and reviews. Their writings resonate with Lambert's fans, who pour out their feelings on the site: "I'm reading this at 4 AM with tears streaming down my face–myself a Sleepwalker asking to understand this mystical obsession with Adam Lambert. And here it is! OMG, you so get it! And you expressed it in poetry that sends me soaring into another dimension…You hit it right on."
Juneau Underwood is a web entrepreneur, writer and editor specializing in neuroscience. She graduated from Harvard College, where she studied physics. Katherine Hollinsworth enjoyed success in business before the siren call that led to stints in politics and government. She has just launched a blog, Katherine Hollinsworth Unwrapped, of her opinion writing and essays. She graduated from York University with a Bachelor of Fine Arts.
LINKS:
Juneau & Xena's Salon On the Meaning of Adam Lambert
Amazon listing http://www.amazon.com/gp/product/0615331696
Radio interview: Podcast of LA Story Interview by Stevie Wilson
Juneau & Xena radio show link: http://www.blogtalkradio.com/juneauxena
# # #