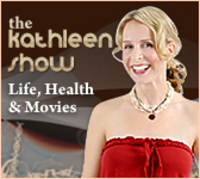 Money Talks: Profits Before Patient Safety
Madison, WI (PRWEB) June 24, 2008
"The Kathleen Show", a nationally syndicated radio program about better and healthier living hosted by health evangelist and outspoken filmmaker Kathleen Slattery-Moschkau, announced today the program's launch on two new stations. The show will air on KKEE AM 1230 of Astoria, Oregon Sundays at 9 a.m. and KFAR AM 660 of Fairbanks, Alaska Sundays at 8 a.m.
"We were very excited to find 'The Kathleen Show' and feel it is a perfect fit for our weekend line-up on our alternative talker KKEE AM 1230," said Tom Freel, operations manager at Astoria's KKEE. "Kathleen is unique in her approach and a sure winner with this audience."
Also being announced today, Providence, Rhode Island's News Talk 1180 WCNX AM--an east coast affiliate--has expanded "The Kathleen Show" to twice per week. The show will now air Saturdays and Sundays from 8 to 9 a.m.
Each week, "The Kathleen Show" packs national experts, celebrities and advice into two hours of fun and inspirational radio. The show is a resource for consumers who want to find the latest information and tips from well known health and wellness gurus, fitness buffs, financial experts, parenting prodigies, entrepreneurs, organizers, doctors and other opinion leaders who encourage smarter and healthier living.
"The Kathleen Show" features an innovative Website at http://www.thekathleenshow.com where listeners can catch up on past shows, read Kathleen's blog and find more helpful information from guests such as: Jean Chatzky, financial expert and New York Times bestselling author; Chris Carmichael, U.S. Olympian, bestselling author and personal coach to Lance Armstrong; Colin Cowie, lifestyle expert and event-planner to the stars; Christiane Northrup, M.D., women's health pioneer; Peter Walsh, Oprah's organization sensation; and international yoga guru Rodney Yee.
About "The Kathleen Show":
The program was launched in 2006 by critically-acclaimed filmmaker, former drug rep, consumer health advocate, and host Kathleen Slattery-Moschkau, whose goal is to educate through entertainment. Featured across the country about her journey from pushing pills for big pharma to raising eyebrows on the big screen, and on various health and wellness topics, Kathleen saw an overwhelming interest in and need for a weekly program that dove into life-changing topics in a light and engaging format. Prior to launching the radio show Kathleen wrote/directed the critically acclaimed film "Side Effects" (starring Katherine Heigl), and the award-winning documentary, "Money Talks: Profits Before Patient Safety".
"The Kathleen Show" airs on radio stations across the country and online at http://www.thekathleenshow.com. The show is also available via Podcast and iTunes.
To arrange an interview with Kathleen Slattery-Moschkau please contact Cari Reisinger at (209) 736-6769. To inquire about station affiliation with "The Kathleen Show", please contact RadioLinx at (480) 993-3150.
###