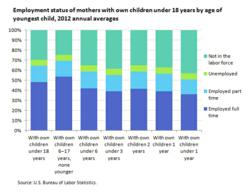 "You may be only one person in this world, but to one person … you are the world." ~ Anonymous
(PRWEB) May 30, 2013
Every new mother lives in fear - about her newborn baby's health, growth and development; about her relationship with her spouse; and even about going back to work after her maternity leave is over. How is she going to juggle it all? "Can you blame her?" asks author Kathryn Michaels, "Every millennium mom wants to have it all – to be the perfect parent, spouse and employee. Which career-oriented woman wouldn't want to be successful like Sheryl Sandberg, Facebook's COO? She's #6 on Forbes List of Power Women now. But the truth is, it doesn't matter which stage of her career she is at – she can't help but worry about her work-life balance once she's back at work."
Sure, but does it affect all women?
In the United States, 55% of mothers returned to work six months after they gave birth as compared to a mere 14 percent in the early 1960s. Not all moms can afford to stay at home. New parents in the United States are only guaranteed their jobs for 12 weeks after the arrival of a new baby, thanks to the Family Medical Leave Act of 1993 (FMLA) and they even don't have to be paid during that time.
With June to September being the busiest baby season every year, it's no surprise that many moms-to-be are now busy preparing for their coming bundle of joy … but with barely enough time to adjust to sleep deprivation, breastfeeding, physical changes in her body and the newcomer in her life, will the working mom be prepared to return to work in such a short span of time?
It's not going to be easy but it's definitely not impossible.
Every mother tries to prepare as best as she can but with a baby that's less than six months old, how can a millennium mom achieve a healthy work-life balance once she is back at work?

Make time for yourself – When mom is happy, everyone else is happy. The family appreciates your sacrifices but your own personal well-being is also important. You need to carve out a few moments for yourself amidst all the demands of your everyday life, even if it is as simple as exercising, reading a book or relaxing in a hot bath.
Let go of the guilt – Forget the housework for a few minutes. Put down the computer. Stop checking e-mails. Schedule some time to just play with your little one and enjoy those precious moments.
Know why you work – According to the Pew Research Center, 86% of working moms sometimes/ frequently feel stress. Identifying and remembering the key reasons why you need to work – ambition, financial necessity or independence – will help you remain focused in times of stress.
Spend quality time with your significant other half – He deserves some of your attention too. Don't forget to take care of your relationship with him. Getting a babysitter and/or hiring a cleaning service will buy you precious moments alone with him, without stretching yourself further by sacrificing your sleep or time.
You are not alone – By creating a support group amongst other mothers / women in the community, you can develop friendships and help each other as well as reduce the stress and loneliness of having to do it all by yourself.
Be thankful – Find happiness today and don't be buried by the daily struggles. Look forward to the future for your family.
Redefine your expectations – Don't let your dream of being the perfect mom stress you out and bury you in guilt. Remember: "You may be only one person in this world, but to one person … you are the world."
Kathryn Michaels is the author of Bedroom Secrets, a reality-inspired series about millennium moms. Her books "Crazy For Milk" and "Sweet on Me" are released by Islandreamz Publishing and are available on Amazon, at http://www.amazon.com/Kathryn-Michaels/e/B00AQKP6Y4. For more information about her books or Kathryn Michaels, please log on to http://www.writemekathryn.com/. Members of the media who wish to review her books may request a complimentary copy by contacting the publisher, Islandreamz Publishing at (416) 275-5195.