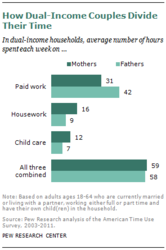 Let the wife make the husband glad to come home, and let him make her sorry to see him leave - Martin Luther
(PRWEB) June 28, 2013
The Supreme Court may have struck down the Defense of Marriage Act (DOMA), granting marriage equality to same-sex couples and allowing those who are legally married in individual states to receive federal benefits, but it cannot dictate equality within a marriage itself. According to author Kathryn Michaels in her novel, Crazy for Milk, that responsibility lies solely on the shoulders of each couple, especially when children are involved.
It all depends on whether mom is a working mother. Pew Research Center recently conducted an analysis of each parent's total workload, comprising paid work, child care and housework. It found that in dual-income households, fathers put in, on average, 58 hours a week, compared with 59 hours for mothers but the distribution between paid work, housework and childcare was quite different. In households where the father is the sole breadwinner, his total workload exceeded that of his partner by only 11 hours (57 vs. 46 hours per week) but in households where the mother is the sole breadwinner, her total workload exceeded that of her partner by about 25 hours (58 vs. 33 hours per week).
Is it any wonder that working mothers often perceive inequalities within their own marriages?
The situation is aggravated when the woman faces:

A loss of significance. She sacrifices – her opportunities for higher education, career advancement and personal pursuits - putting the interests of her partner and her children before her. This loss is aggravated by insufficient appreciation of her sacrifices.
Shifts in expectations. He wants sex, she doesn't. The need for intimacy differs between both individuals and when one partner wants more than what the other is prepared to give, love and connection changes to disappointment and anger far too easily.
Insecurity. Whenever she fails to meet her significant other's expectations, she is faced with the threat of adultery should he choose to have his needs fulfilled elsewhere.
Loneliness. Feeling trapped and not understood, she might choose to seek love and connection elsewhere.
Exhaustion. Tired and overworked, she feels as if she's doing everything for the family and he's not contributing enough.
So how do the scales get balanced?

Give her time for herself. Everyone needs a time-out.
Don't push each other away. Reconnect. Reestablish communication.
Ease internal pressures by seeking external help from relatives, friends, or professional services like cleaners and babysitters.
Join support groups, who can help you both work through the process.
Hopefully, by working towards equality within marriages, couples can work towards a happily-ever-after life together instead of being content only with a happy-for-now life.
Kathryn Michaels is the author of Crazy for Milk, a reality-inspired novel which takes the reader through the journey of a woman who seeks equality within her marriage after the birth of her first child. Her books are released by Islandreamz Publishing and available on Amazon, at http://www.amazon.com/Kathryn-Michaels/e/B00AQKP6Y4. For more information about her books or Kathryn Michaels, please log on to http://www.writemekathryn.com/. Members of the media who wish to review her books may request a complimentary copy by contacting the publisher, Islandreamz Publishing at +1 (416) 275-5195