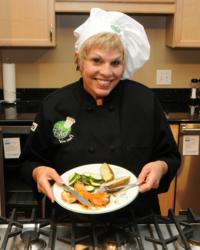 Our programs are as varied as people in general. You never know who is going to be on our show or what we will be discussing!" said Kathryn Raaker.
Cincinnati, OH (PRWEB) November 04, 2011
Kathryn Raaker's syndicated talk radio and television programs have featured a multitude of guests, from authors to zoologists. She delights her audience with her inquisitive questioning and her wit and style. When she expanded from radio to television, her program takes a look at the Baby Boomers with Born B4 64, and she opened a new audience. Then another television program expansion, The Chef, You and I, was created to teach the overweight and undernourished population how to cook in a healthier fashion. Both these programs have been contracted with the Telos Digital Television Network, now airing in Portland, Maine on Fox 23. Telos is rolling out nationwide as their network expands, including Kathryn's programs and that of 80 other producers, all focusing on Body, Mind and Spirit programming.
The catapult of Kathryn's success has been with her radio outreach. It has allowed her to secure interviews with a multitude of professionals, world-wide. It is not unusual to hear a foreign dialect on her program as she is in Cincinnati and a guest is in another country. But the breadth of her program is what keeps people tuning in weekly.
"Other programs feature a certain topic or profession: Health, Aging, Travel, and such, but on Let's Just Talk, we allow people from every walk of life, every age of individual and every culture to tell their story. Our programs are as varied as people in general. You never know who is going to be on our show or what we will be discussing!" said Kathryn Raaker.
According to their web site, "KFNX was voted one of the Top Ten Radio Stations in Arizona by Ranking Arizona and has over 70,000 weekly listeners. KFNX has one of the largest signals of any Phoenix Radio Station with 50,000 watts reaching almost five million people throughout Arizona from Sedona to Tucson and Yuma to Globe." It is quite an expanded radio market for Kathryn and her Let's Just Talk program.
Kathryn's television programs are currently airing on TBNK, ACT I and Time Warner in the Cincinnati and Northern Kentucky areas. This global distribution with Telos comes after many years in the entertainment industry. Kathryn has lived in multiple countries with her businessman husband, and at one time had a children's television program in Singapore. In 1987 she produced a TV program for kids in Massachusetts. Kathryn is currently working on a third show called Timeless Performers which will launch later this year. And she is working on her Children's TV show "A Time for Kids" which she hopes will be in production in early 2012.
In addition to radio and television production, Kathryn works with a number of clients and customers in the national and international marketplaces through her business, the Tri-State Connection. She is a spokesperson for many companies and their products. She travels globally for events. She offers a full service, full scope marketing, consulting and product placement service; she is always looking for sponsors for her show.
For more information on Kathryn Raaker or her programs, contact
Kathryn Raaker
http://www.kathrynraaker.com
513-616-6986
###