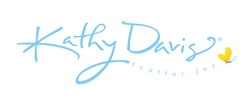 While texts and tweets are certainly efficient, these messages are typically impersonal in nature. These newer communication methods cannot replace the joy we feel when we receive a holiday card with personal messages from our loved ones
Ambler, PA (Vocus) December 3, 2009
While tweets, text messages and e-mails have made day-to-day communications with friends and family quicker and easier, the time-honored tradition of sending and receiving greeting cards, especially during the holiday season, has never demonstrated a more thoughtful and meaningful way to connect with loved ones, according to Kathy Davis, a celebrated artist, author and one of the world's leading greeting card designers (American Greetings).
"While texts and tweets are certainly efficient, these messages are typically impersonal in nature. These newer communication methods cannot replace the joy we feel when we receive a holiday card with personal messages from our loved ones," says Davis.
"As we take time out to reflect on the past year this holiday season, greeting cards offer that personal touch to share our memories and send heartfelt wishes, both of which are too often lacking in our busy and hectic world of abbreviated text messages and forwarded e-mails."
As the Greeting Card Association estimates U.S. consumers purchase approximately 7 billion greeting cards annually, with half of those being seasonal cards alone, Kathy Davis offers the five following suggestions to add an even more personal touch in holiday cards this year:
1. Mention a Memory: As you write to wish a dear friend or family member a joyous holiday season and happy wishes for the year ahead, remind them about your fondest memory of time spent together. Whether a funny moment where you shared a laugh or a meaningful time together, celebrate your relationship as you look forward to more special times in 2010.
2. Say it with a Photo: If writing a lengthy message seems a bit daunting, say it with a few photos instead. Update family and friends with a photo collage of milestones such as graduations and weddings, summer vacations, and don't forget that candid shots add a personal touch, too!
3. Tuck in a Holiday Recipe: Not able to celebrate the holidays with family or friends this year? Try tucking a favorite, or perhaps a brand new holiday recipe, into the cards you send. Ask family to enjoy the dish during their holiday festivities as you celebrate the season across the miles.
4. Kids Count!: Allow the kids to add their own special message into your holiday cards this year. Whether they choose to draw a picture, share what may be on top of their wish lists, or even scribble with a crayon, let each family member add their very own contribution into the holiday cards you send this year.
5. Signed and Sealed: From wax sealers and monogrammed adhesives to colorful inks and seasonal stickers, let you personality shine on the outside envelope of your holiday cards, too! I often decorate my envelopes to coordinate with the card inside!
About Kathy Davis Designs, Inc.
Touching more than 50 million consumers annually, Kathy Davis is one of the world's leading and most respected designers. Davis manages an extensive portfolio of more than 15,000 designs, acting as Chief Executive Officer and Chief Visionary Officer of the Ambler, Pa. – based company that bears her name Kathy's brand promise to "Scatter Joy," which defines both her work and the mission of her company, is also the title of her best selling book, Scatter Joy: Living, Giving and Creating A Life You Love, and the joy-sharing Web site, http://www.scatterjoy.com. Kathy Davis Designs, Inc. now operates under four brand names: "Kathy Davis," "The Studio at Kathy Davis," "Portfolio – Kathy Davis Studios," and "Fred and Lorraine." For more information, please visit http://www.kathydavisstudios.com.
# # #