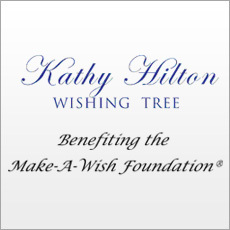 My daughters opened their closets and literally provided racks of beautiful dresses; some only worn once that would make an extraordinary gift to any young lady who would love a designer gown or simple skirt and blouse
Bel Air, California (PRWEB) December 12, 2008
ValCom and Auction Network are very pleased to announce a major holiday event to be aired on My Family TV and America's Auction Network on Dec. 20th at 7p.m. Eastern (4 p.m. Pacific). Kathy Hilton will be presenting the Kathy Hilton 'Wishing Tree' auction to benefit the Make-A-Wish Foundation®. Kathy and Rick Hilton will welcome you to join them, their daughter Paris, and other family members and friends to participate in what promises to be a truly wonderful experience.
Viewers will have the opportunity to be guests in the Hilton's home via Auction Network, America's Auction Network, My Family TV and the Internet at auctionnetwork.com. You will have the opportunity to bid on more than 100 items that will be put up for auction.
"Rick and I are delighted to make available many items that have been donated by our friends and family" Kathy Hilton says. "We know that these are very difficult economic times for millions of people. We also know that it is precisely during these times and this season that each of us has the opportunity to grant a child's wish. During my association with the Make-A-Wish Foundation, my family has met and interacted with many of these courageous children, as well as their parents. In spite of the tremendous challenges the children are facing, I have always seen the glint in their eyes."
Kathy Hilton picked up the phone and called her friends in the entertainment and sports worlds, asking if they could contribute a gift for the auction. The results were instant and overwhelming. On the evening of Dec. 20, some of the items that will go up for auction include: two tickets to a Jonas Brothers concert of your choosing and a meet-and-greet with the singers; on-set lunch with the cast of "Entourage;" two "American Idol" tickets donated by Ryan Seacrest; Alex Rodriguez ("A-Rod") autographed baseball; VIP Las Vegas package to see Fergie in concert and attend the after party; two tickets to "The Ellen Degeneres Show" and a autographed personal item from Ellen; Elizabeth Taylor's gently worn and signed Stuart Weitzman shoes; Lucille Ball's tea cup: Johnny Carson's cuff links: Charlie Sheen autographed baseball jersey: autographed scripts from Leonardo DiCaprio, "Entourage," "Two and a Half Men," "Desperate Housewives;" and items from Donald Trump, Avril Lavigne, Magic Johnson, Gwen Stefani, Brian Wilson, Carmen Electra, Jennifer Lopez, Will Ferrell, the New York Yankees, Kimora Lee Simmons, Brooke Shields, and the list goes on!
The auction also includes Top Designer clothing, handbags and accessories donated by Kathy, Nicky and Paris Hilton.
"My daughters opened their closets and literally provided racks of beautiful dresses; some only worn once that would make an extraordinary gift to any young lady who would love a designer gown or simple skirt and blouse," Kathy Hilton says.
The items will be shipped in time for Christmas. Additional items will be revealed in the days leading up to the auction.
"My family and I view this experience as a wonderful opportunity to share some of our good fortune in a meaningful and joyous manner." Kathy Hilton says. "All of the proceeds from the auction will go directly to the Make-A-Wish Foundation. We are so looking forward to this holiday event and spreading the true meaning of this very special time."
About America's Auction Network:
America's Auction Network http://www.aantv.com is one of the world's largest independent auction houses and one of the fastest growing shopping networks with the most diverse niche product lines from art, antiques, coins, collectibles, jewelry, gems and real estate -- even meteorites from outer space. Shows and auctions are available to 40-million plus U.S. households via MOS Cable Systems, Broadcast Stations and is simulcast on the World Wide Web.
About Auction Network:
Auction Network is the live-bid-to-picture interactive auction entertainment network that offers audiences compelling interactive programming merging the sport and spirit of live auction with the ability to watch, bid and win live, real-time, in HD from anywhere in the world. Auction Network allows viewers to participate either live or through absentee bidding online at http://www.auctionnetwork.com and on television across cable and satellite channels throughout the U.S.
Media contact:
Deedra Determan
Auction Network
(918) 808-6054
deedra.determan@auctionnetwork.com
###